Can you name all the national parks in Minnesota and Wisconsin? Here's a hint: one of them is a border river uniting the two states.
Spanning both Minnesota and Wisconsin, the St. Croix National Scenic Riverway is among these cherished national parks. Encompassing 255 miles of clean water, exceptional wildlife, and abundant recreational opportunities, the Riverway consists of the St. Croix River and its main tributary, the Namekagon River. In 1968, these rivers were designated as the nation's first wild and scenic river national park, thanks to their free-flowing character, outstanding water quality, and the recreational, cultural, historical, and aesthetic values they provide.
National Park Week, celebrated from April 22 to April 30, is a special time to honor and support the more than 400 national parks across the country, including the St. Croix National Scenic Riverway. For those of us living in the communities along the St. Croix River, this week offers a unique opportunity to recognize and advocate for the protection of our local treasure.
The Riverway is host to globally unique species. On any given day, bald eagles can be seen soaring over the river hoping to dine on one of over 100 native fish species. River otters, spiny softshell turtles, and bullfrogs laze among the ferns and bulrush of the shoreline, while lake sturgeon, river redhorse, and over 40 species of native mussels browse the river bottom. All the organisms, from the microscopic to the towering trees, are critical for this rare example of a healthy, intact riverine system. One example of their importance is the federally endangered winged mapleleaf or the spectaclecase mussel. Mussels play a critical role in maintaining the excellent water quality of the St. Croix and Namekagon Rivers by filtering water as they cycle aquatic nutrients.
The Riverway isn't just important for its ecological value. The St. Croix River offers outdoor enthusiasts a chance to enjoy a wilderness-like experience and a variety of outdoor recreation opportunities within easy reach of a major metropolitan area. Close to a million visitors each year come to swim, paddle, fish, hike, and more. With over 150 designated campsites, the Riverway has places to stay for an even longer adventure. Trip planning services can be found at both the St. Croix Falls and Trego Visitor Centers where park rangers are available to help you create an adventure that fits you and your family.
As our environment faces the challenges of climate change and increasing development, it's crucial to protect rivers like the St. Croix. Only 0.35% of our nation's rivers are safeguarded under the Wild and Scenic Rivers Act, making the Riverway's designation truly unique and valuable. As stewards of the river, we can contribute to the preservation of our neighborhood national park through various actions, such as proper pet waste disposal, smart fertilization, storm drain protection, supporting local agriculture, planting native species, and advocating for river conservation.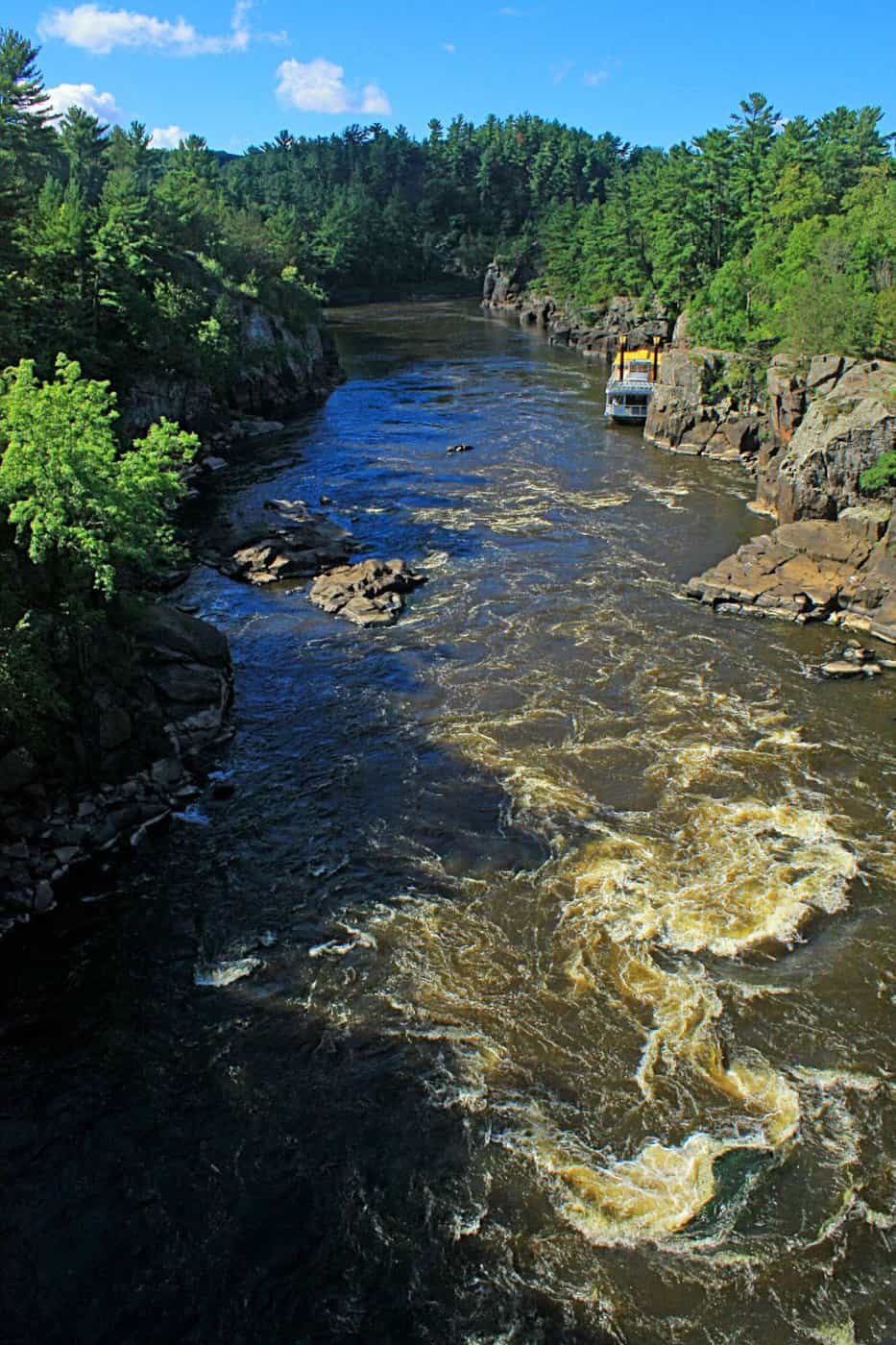 During National Park Week, let's come together as a community to celebrate and protect the St. Croix National Scenic Riverway, our local gem. Share your stories and photos on social media to showcase the beauty and importance of our National Parks and inspire others to join in the effort to preserve these natural wonders for generations to come. Maybe add a visit to all of Minnesota and Wisconsin national parks to your bucket list: Voyageurs National Park, Mississippi National River & Recreation Area, Pipestone National Monument, North Country National Scenic Trail, Grand Portage National Monument, Apostle Islands National Lakeshore, Ice Age National Scenic Trail.
Ready to learn more about our Riverway National Park?
Click to visit the National Park Website
Photo Credit: Linda McKusick