In honor of the launch of the new My St. Croix Woods website, we sat down with the Wild Rivers Conservancy's Forestry Program Coordinator Nikki Henger to learn more about the work of MSCW and how technology has helped to foster a sense of community across the watershed for woodland owners over the past few months.
The Wild Rivers Conservancy has coordinated the My St. Croix Woods (MSCW) program, a highly utilized resource for woodland owners throughout the watershed, since 2017. 2020 has brought new challenges to this fast-developing program. Nikki has turned those challenges into opportunities for the program to grow. 
A graduate of the University of Dayton and the State University of New York-Environmental Science and Forestry School, Nikki's work for the woodlands of the St. Croix watershed comes from a deep love of environmental education. "I kind of always knew that I wanted to be in the realm of biology, ecology, sustainability—something that would allow me to go outside and do things other than strictly office work," she says. 
Nikki's passion for education and forestry has enabled MSCW to adapt its virtual outreach to meet the needs of woodland owners across the watershed. A central part of this effort is the updated MSCW website. The previous MSCW website included similar useful information, but over time, the site was due for revitalization. "I wanted to make a website where it was easy to find everything that you are looking for. I also wanted to align it with Wild Rivers Conservancy's look, and this new website ties the two together a bit more," Nikki says. 
Technology has always played an integral role in Nikki's work with MSCW and forestry in general. "Technology helps us filter and prioritize the most appropriate places to work on the landscape," she says. "It helps us reach out more efficiently." While she has been using technology to prioritize landscapes, it is now being used more heavily on the programming side as well. With COVID-19, technology is critical to continue the conversations with local landowners. "We've trended towards virtual events. I think people who haven't necessarily been able to drive a few hours to some of the places where we are doing these educational events are now able to sit down and go on our Facebook page or register for Zoom. So while it is closing some opportunities from having in-person events, I think virtual programming also opens up more doors."
While the presentation of some of MSCW's outreach offerings looks a bit different, the core of the program is unchanged. "We are a matchmaking service that helps woodland owners connect to the resources they need," Nikki says. "So while I personally am not going out in your woods and checking everything out, I can help you navigate all the different layers and connect you to the person who can help meet your goals." While talking to woodland owners, she asks questions about their lands, figuring out the background of where they are coming from and listening to where they want to go. Nikki then sends the landowner a personalized information packet.
In addition to information packets, MSCW's virtual programs offer the opportunity to learn and join a community from the comfort of home. Recent examples include the Woodland Owner Webinar series featuring local experts, and a new MSCW Facebook Group where any woodland owners can ask questions and share their own personal stories and advice in a setting with a community vibe. "I started the Woodland Owner Webinar series that occurs every other month to educate woodland owners on a variety of topics. I ask woodland owners what topics they are interested in and work with our partners in the watershed who are experts on that said topic. To date, we have covered the topics of tax incentive programs in Minnesota, oak management, and climate change. I am hoping to include topics like Wisconsin's tax incentive program, timber harvesting, and more. For November, we have a webinar coming up on forestry for the birds," Nikki notes. "I've had to evolve into the virtual stewardship realm, but it's still important for me to connect with people. We can connect to more people and a broader audience through Zoom and Facebook."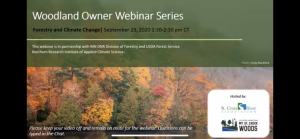 "Using technology is a good way to connect with our neighbors," Nikki adds. During this complex time, the increased virtual connections offered by MSCW resources and outreach efforts provide support for woodland owners throughout the watershed and offer a sense of community that will extend far beyond COVID-19.
If you would like to join the MSCW community on Facebook, click here.
To register for the upcoming Woodland Owner Webinar, "Forests for the Birds," click here.
To access our archived Woodland Owner Webinar recordings, visit our YouTube channel here.
If you would like to support My St. Croix Woods and Wild Rivers Conservancy's important conservation work, please donate today.
Header Photo: Craig Blacklock