Your students will love doing math, reading, and science activities as they embark on their Junior Ranger journey. Click below to download the St. Croix National Scenic Riverway's official Junior Ranger activity booklet for free or contact us to get a box of booklets mailed to your school. Have your students watch the videos below and complete the activity booklet to earn their Junior Ranger badge. Once they have completed the required activities, you can sign your class up for a virtual, live ceremony with Ranger Dan below!
Part 1: Become A Junior Ranger Today!
See what it means to become a Junior Ranger with Ranger Dan from the St. Croix National Scenic Riverway. There are so many ways to explore the Riverway and nature all around you! From scavenger hunts to birding and everything in between, there is a way for everyone to ask questions and make observations about the living world around you. 
An audio described version of this video can be found here: https://www.youtube.com/watch?v=WRx87-rZmao 
Find more Junior Ranger activities in the videos below! You can also print out scavenger hunts and activities by clicking on student resources at the bottom of the page. 
Part 2: How to Properly Fit a Life Jacket
Every Junior Ranger needs to remember that safety is our number one priority. Whenever you are on the St. Croix River or a lake near you, it is important to always wear a life jacket.
In this video, Ranger Dave is going to show you that putting on a life jacket is not the same as tossing on a winter jacket. You need to make sure that you have the right size jacket and that all straps are tightened so that it stays below your ears. When fitted properly, a life jacket could save your life. 
Part 3: How To Use Binoculars
How carefully do you observe the animals and plants around you? Binoculars are a great tool for Junior Rangers to make far-away observations of birds, squirrels, leaves, and anything else you can think of! Join Ranger Andie to learn about the different parts of a pair of binoculars and how to properly adjust them to get a close-up view of a bird or landmark!
An audio described version of this video can be found here:
https://www.youtube.com/5DC0EGlCWV0
Part 4: Junior Rangers Leave No Trace
The ultimate challenge to become a Junior Ranger is to learn how to Leave No Trace. When you go outside, imagine if you were a spy on a secret mission who didn't want anyone to be able to follow your trail. Junior Rangers would be the world's best spies because they know how to go to a park or the river and not leave a single clue that anyone was there. Learn some tips from Ranger Dave and Ranger Liz on how to become the world's most elusive Junior Ranger. 
Bonus Challenge: After watching this video, go back to the intro video at the top of the page and see if you can find any examples of what happens when people don't follow this simple rule.
Part 5: Dragonfly Art Project
Junior Rangers learn through exploration, observation, question, and so much more. What about learning through art? Did you know that insects have three main body parts? Learn those three body parts and more with Ranger Liz as she shows you how to make your own Dragonfly! For this art project, you will need two pipe cleaners, scissors, two beads, a pen/pencil, and a piece of paper.
Part 6: Junior Ranger Ceremony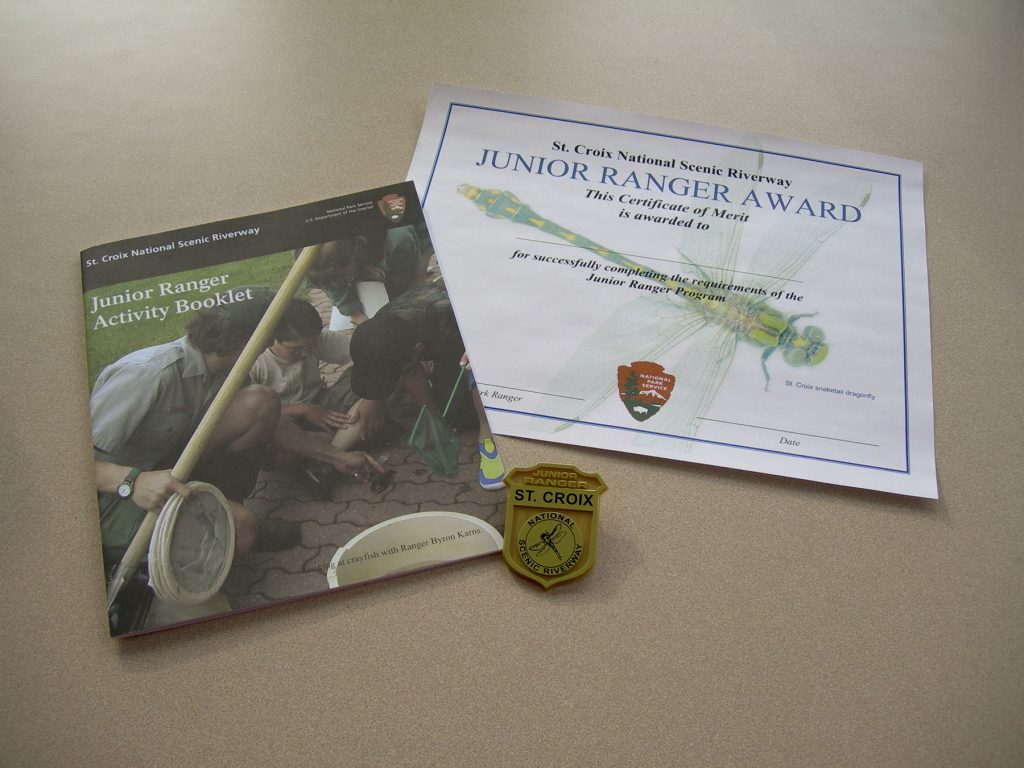 If you would like to become an official Junior Ranger and receive your Junior Ranger badge, email Nicole Biagi to receive your Junior Ranger booklet, badge, and to sign-up for a live ceremony. Ranger Dan will chat with you about the activities you completed and the observations you made as you explored. You will have the opportunity to state the Junior Ranger pledge with Ranger Dan as the final step to becoming an official ranger.