With summer temperatures here to stay, nothing sounds better than a day exploring the St Croix National Scenic Riverway. Whether it's hiking, camping, swimming, kayaking, canoeing, or birdwatching, it's smart to plan your trip.
Using the 7 Principles of Leave No Trace will make sure you are safe and leave the Riverway as nice (or maybe even better) than you found it.
Principle 1: Plan Ahead and Prepare. If you're going to be on the river, check the water levels for the portion of the river you'll be on. Low and high water present different challenges you may need to prepare for or avoid. Each person should bring and wear a properly fitting life jacket. Make a float plan and tell a friend what the plan is; if you're not back as expected they can contact the authorities if needed. Cell phone reception can be spotty, however if you DO have an emergency always call 911.
Pay attention to the weather forecast and pack accordingly. Don't forget the water, snacks, sunscreen, sunglasses, bug spray, rain gear and a change of clothes. Remember, no glass on the river. Having a well stocked travel bag might be the difference between heat stroke (or hypothermia) and a nice day on the water.
Principle 2 & 5: Travel and Camp in Designated Sites and Minimize Campfire Impacts. The St Croix National Scenic Riverway has 60 landings and 150 campsites. Every campsite above Highway 8 has a pit toilet, picnic table, and campfire ring. While it's tempting to go off trail or off river, it's healthier for the plants and animals to stick to the trails and campsites that are already made. Visitors to parks can unknowingly spread invasive species such as buckthorn or garlic mustard on shoes and introduce invaders to unspoiled places. Keeping human disturbances to a minimum will keep our Riverway looking stellar for generations to come.
Principle 3: Dispose of Waste Properly. Stepping on a fishing hook, or seeing trash as you're floating down the river isn't what anyone wants to experience in their parks. Carry out what you carry in. A good practice is to bring a small bag to pick up trash as you go along. Accidents happen, bags rip, but working together, we can keep debris to a minimum.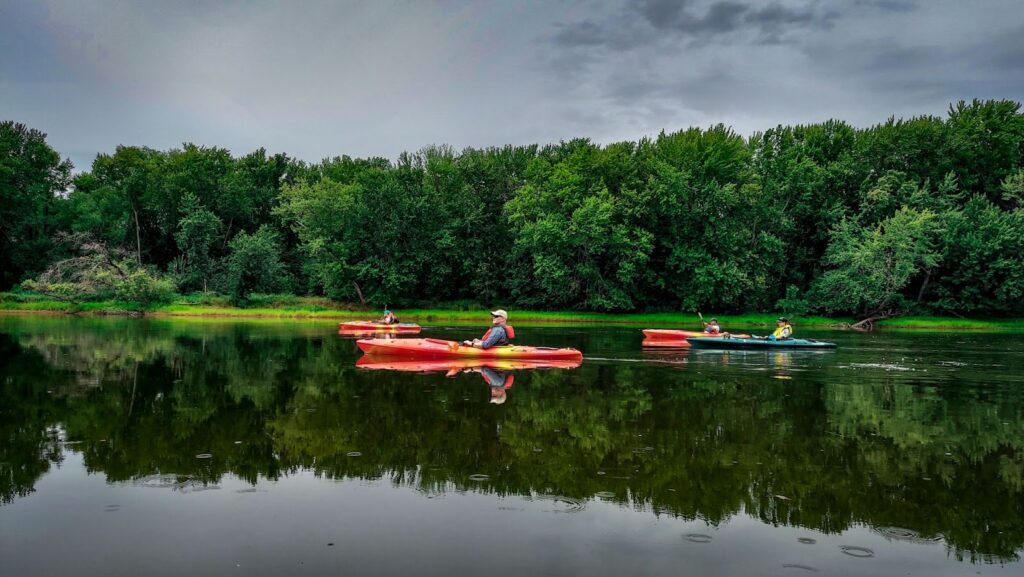 Principle 4: Leave what you find. The age old adage "Take only pictures, leave only footprints" is a great rule of thumb. Picked flowers can't help pollinators and that river rock could have eggs attached to it. Many of the plants and animals in the St Croix Valley are protected rare and endangered species. Did you know it's illegal to collect even empty mussel shells? Pictures immortalize once-in-a-lifetime trips and don't cause a lot of clutter.
Principle 6: Respect Wildlife. The Riverway is home to 40 species of reptiles and amphibians, 50 species of mammals, 41 species of mussels, literally thousands of insects, plants, and animals. The Riverway is their home and it's important to remember that we are guests. Leave animals and their habitat alone and give animals their space.
Principle 7: Be Considerate of Others. Parties have their place but remember that many people visit parks for the peace and tranquility that nature provides. Have fun but consider how your actions may affect other visitors, home owners along the river, or the plants and animals that call the Riverway home.
The National Park Service staff has a big job. With over 230 miles of river they count on you to follow these seven principles to help keep the Riverway safe and enjoyable for everyone.  If you see something that needs to be addressed, say something and call 1-800-PARKTIP (1-800-727-5847). Use this number to report  unsafe conditions (trees blocking channels, etc.), illegal activities and river damages.
For more information, check out the St. Croix National Scenic Riverway's Website: https://www.nps.gov/sacn/planyourvisit/index.htm.
To learn more about the Leave No Trace Principles, visit: https://lnt.org/
Wild Rivers Conservancy hosts a variety of programs throughout the year. Check out our website at https://wildriversconservancy.org/events/
Photo Credit: Craig Blacklock and Maria Young