River Connections Team Visits Crex Meadows…
and Why You Should Too
The River Connections team recently spent a morning at Crex Meadows for an off-site team-building excursion. This dynamic team focuses on education and community engagement by creating programs and experiences that enable others to explore, support, and learn about the St. Croix River watershed.
Wendy Tremblay, team supervisor, and Community Engagement Coordinator reflects on this recent experience. "Having the opportunity to explore natural areas within the watershed allows our staff the ability to connect as a team, to the watershed, and to new locations that we can share in our programming."
Read on to learn more about Crex Meadows and the sightings made by this team during their driving tour.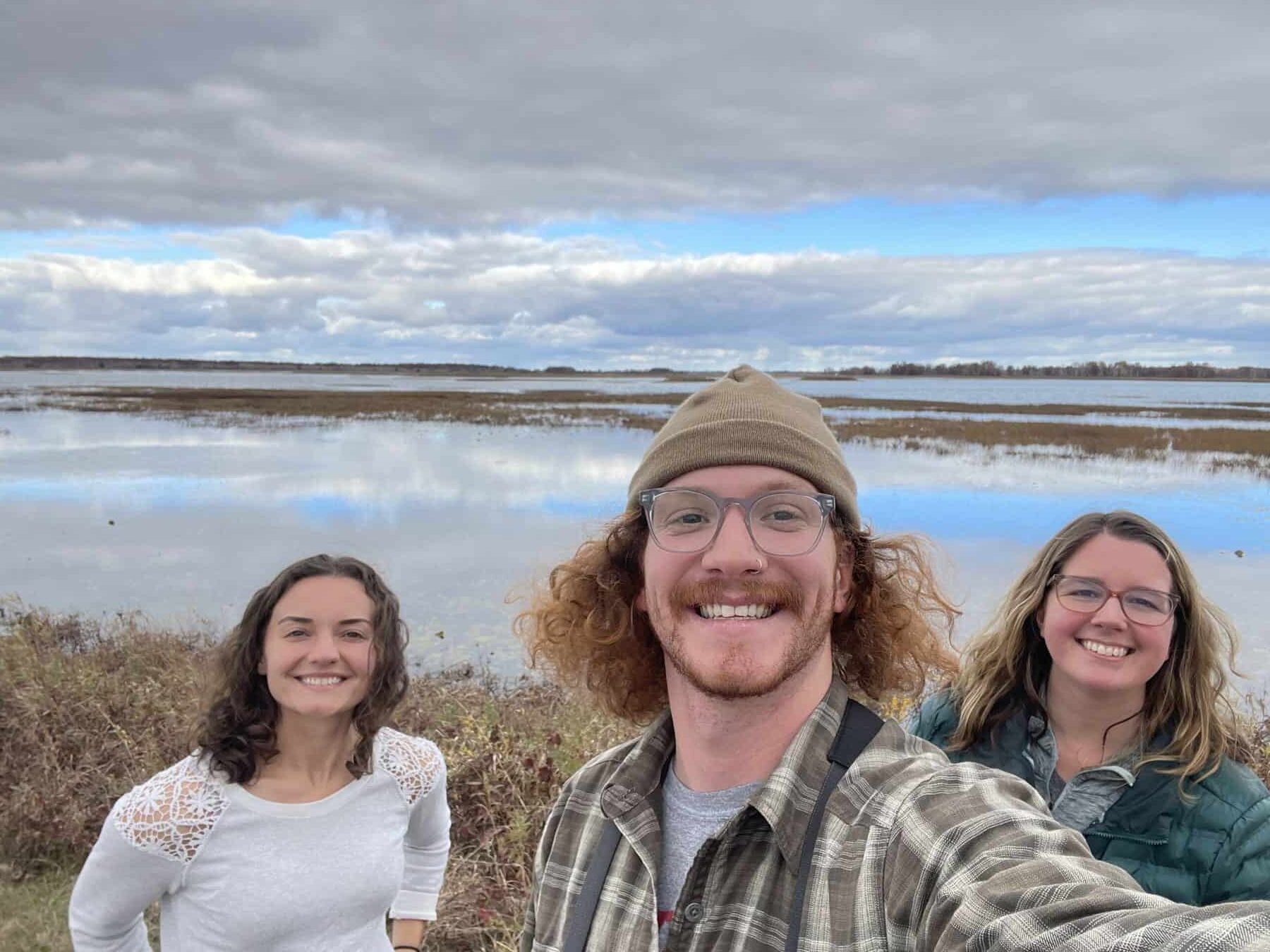 Pictured L-R: Nicole Biagi (Outdoor Educator), Jeremiah Walters (Naturalist), Wendy Tremblay (Community Engagement Coordinator)
ABUNDANT WILDLIFE IN YOUR OWN BACKYARD
by Jeremiah Walters
Crex Meadows, located in Grantsburg, WI, just an hour and a half outside of the Twin Cities, is a 30,000-acre Wildlife Management Area with prairies, wetlands, oak savannas, and other unique forest types, such as the globally endangered pine barrens. These ecological features allow for an abundance of wildlife and plant diversity which make this a must-see location for nature enthusiasts.  Every species of mammal known to Wisconsin, including moose and mountain lions, have been on the land at Crex Meadows at some point in time.  Having this wildlife management area located within the St. Croix River watershed provides an important oasis for migratory birds and pollinators while also attracting human visitors to explore and learn about this region of the state. 
With the visitor center now open, we were able to engage with informative staff and engaging displays. Videos featured the history of Crex Meadows and wildlife species found throughout the seasons of the year. We learned about some of the birds that are endemic to the area or are passing through on their fall migration. With the roads through Crex Meadows covering 24 miles, it is the perfect place for a driving tour. A friendly staff member highlighted the best route on a map for the most seasonal wildlife viewings. After our visitor center pit stop, we headed to Phantom Lake Road to begin our birding extravaganza.
SIGHTINGS AT CREX MEADOWS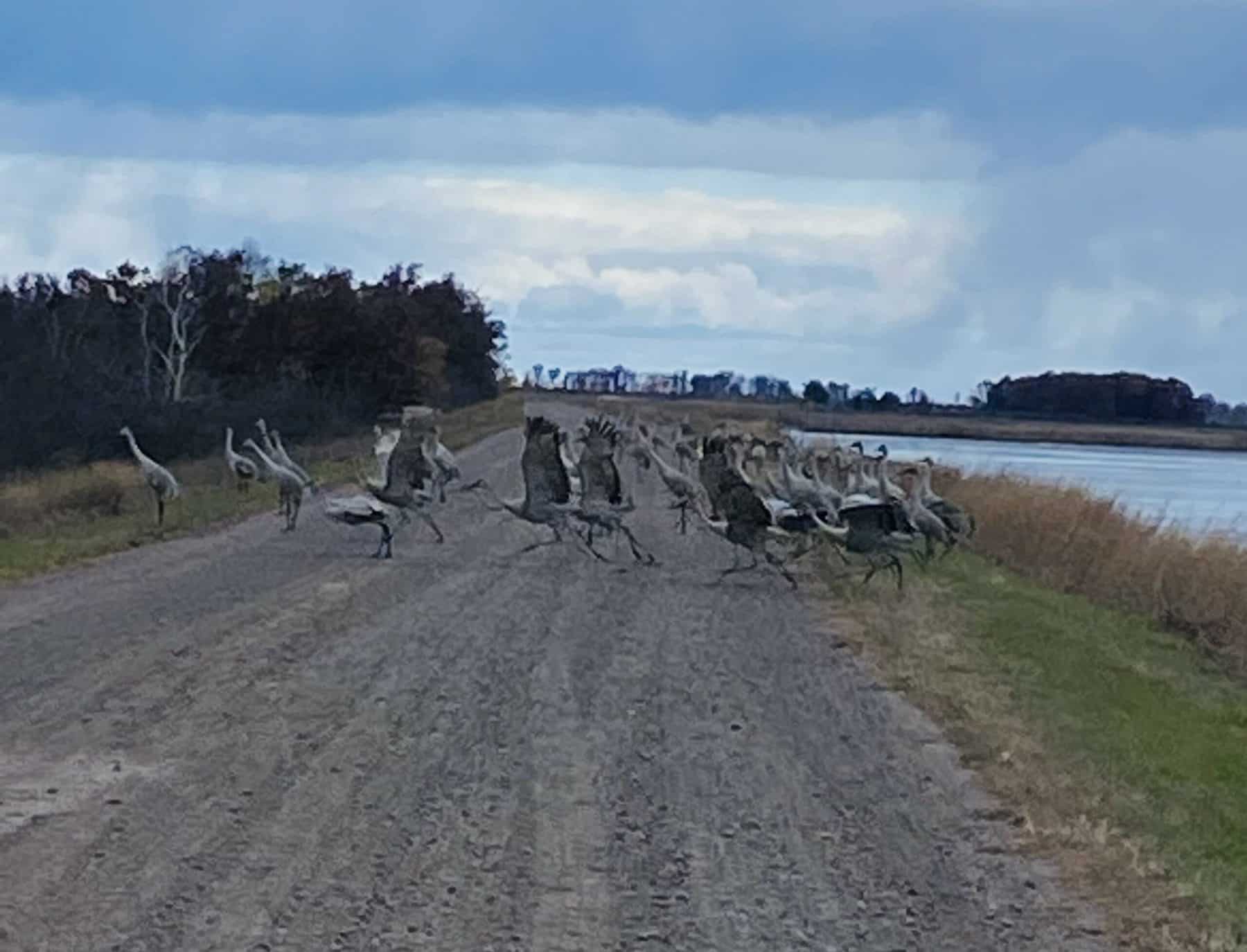 Greater Sandhill Cranes
We were immediately welcomed by over 30 sandhill cranes standing in the road with another 50 or so off in the ditch! The number of sandhill cranes we saw during our visit was unfathomable. From October to early November during fall migration, 15 to 20 percent of the world's population of greater sandhill cranes stop at Crex Meadows. That means roughly up to 20,000 of these birds swing by this little corner of Wisconsin until the marshes begin to freeze.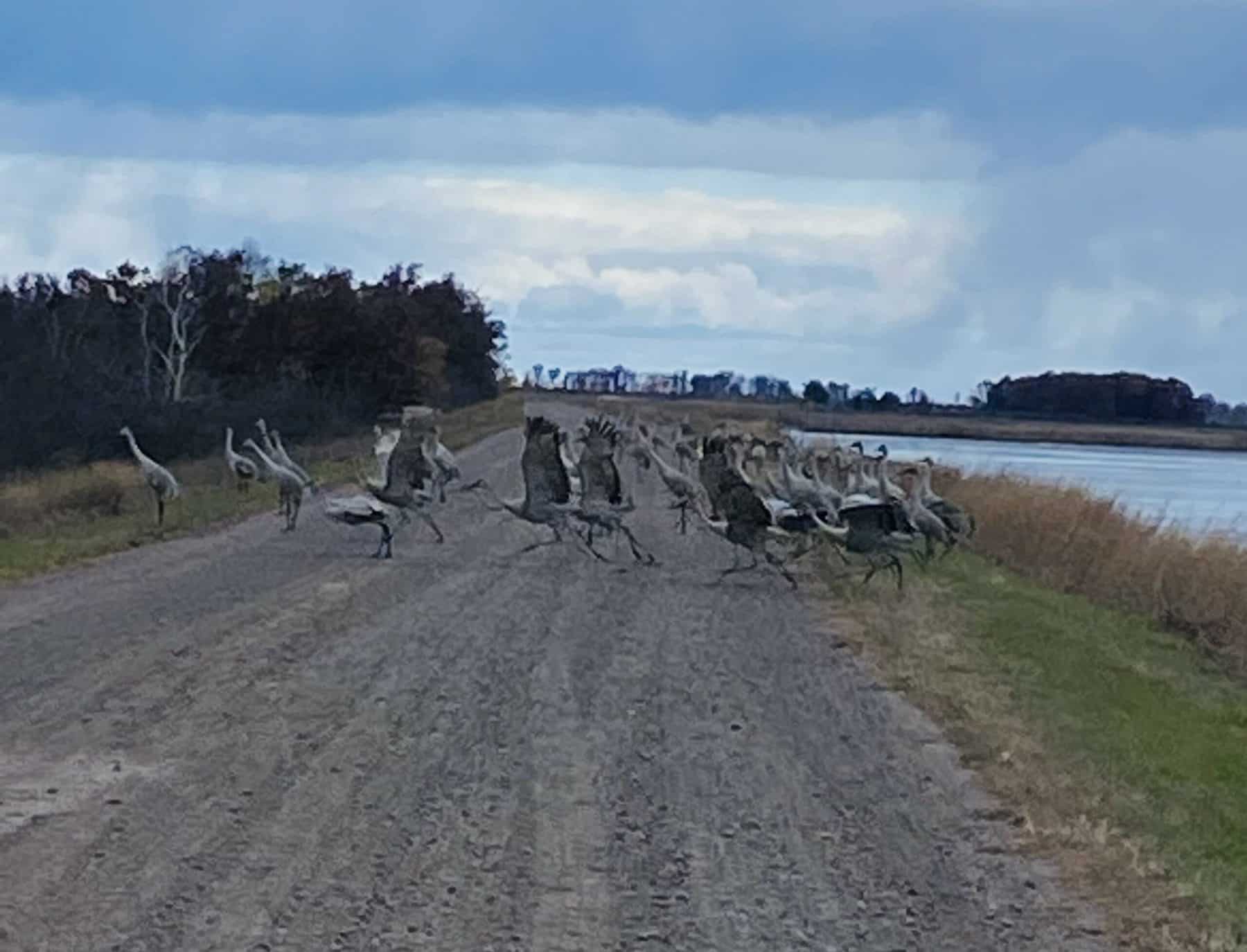 Greater Trumpter Swans
On our first couple of miles driven in the Wildlife Management Area, we saw many different species of waterfowl, including the largest swan in the world - the trumpeter swan. All of the swans we saw on that day were all in the same flowage, feeding on a buffet of aquatic tubers and plants beneath the water! It was reassuring to see these trumpeter swans as not long ago, they were threatened due to unsuitable nesting habitats and the degradation of wetlands throughout the country. In the summer, you can see hundreds of these majestic swans as you tour Crex Meadows.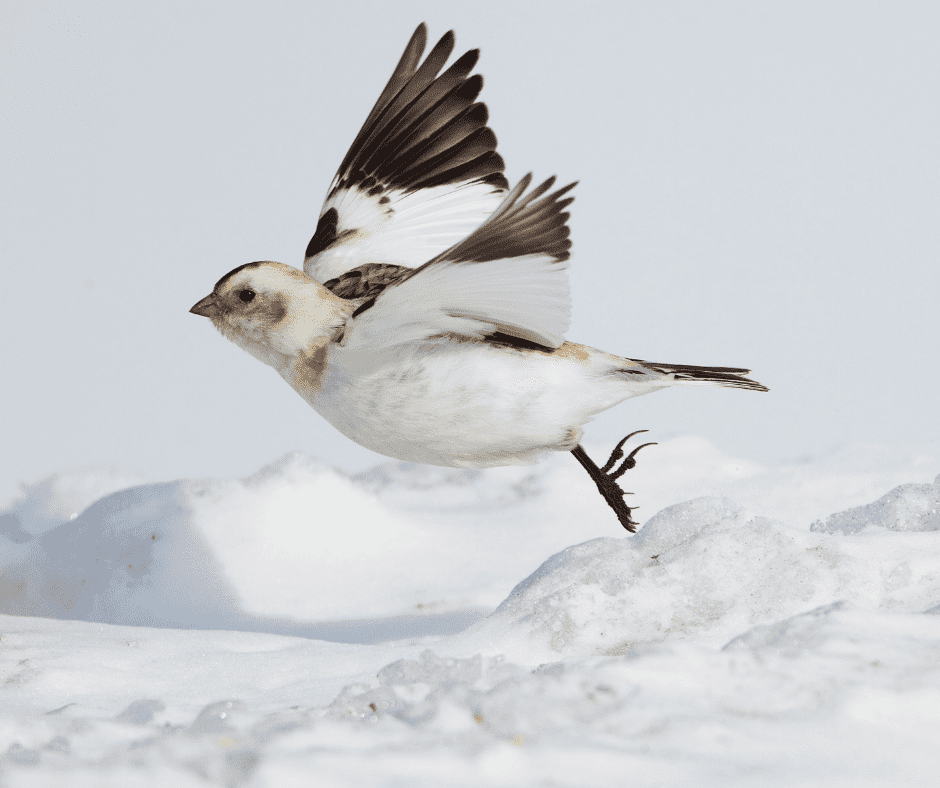 Snow Buntings
Out of all of the species we were hoping to encounter, snow buntings were high on the list. A winter resident visiting from the tundras of Canada, covered in unique plumage, they are quite the bird to admire. Thankfully, about halfway into our drive, we were able to see a group of about 10 of these white and brown sparrow-sized birds on the edge of the road! We watched them for a bit and admired their striking feathers one last time before spotting our next fun-to-see species! Did you know? A group of Snow Buntings is called a drift or snowflake.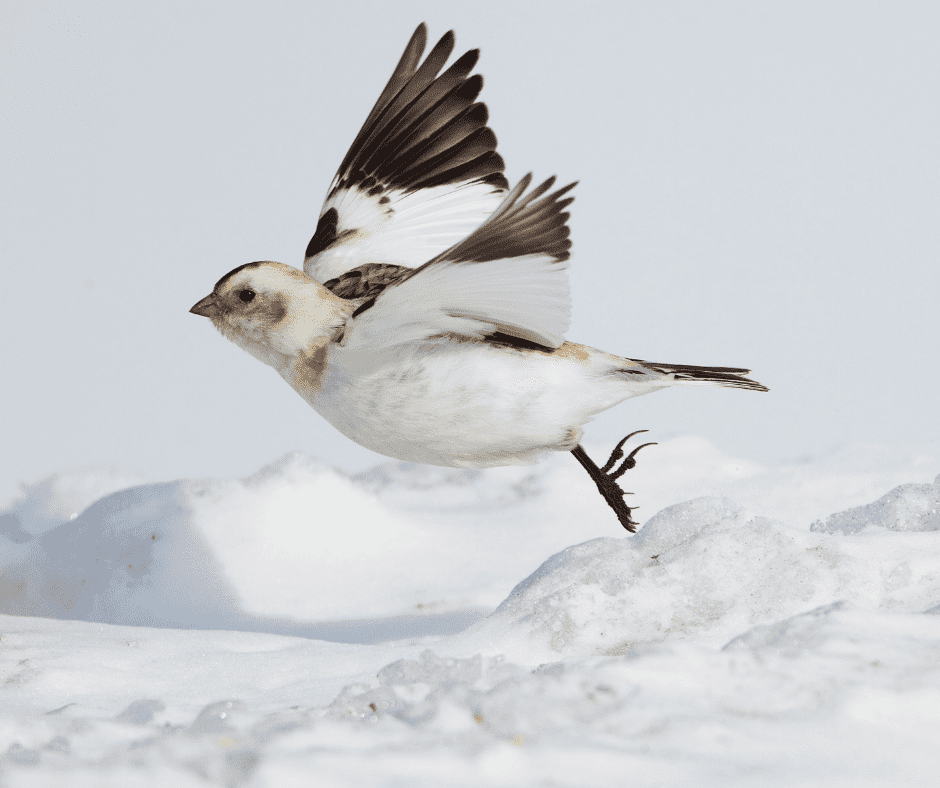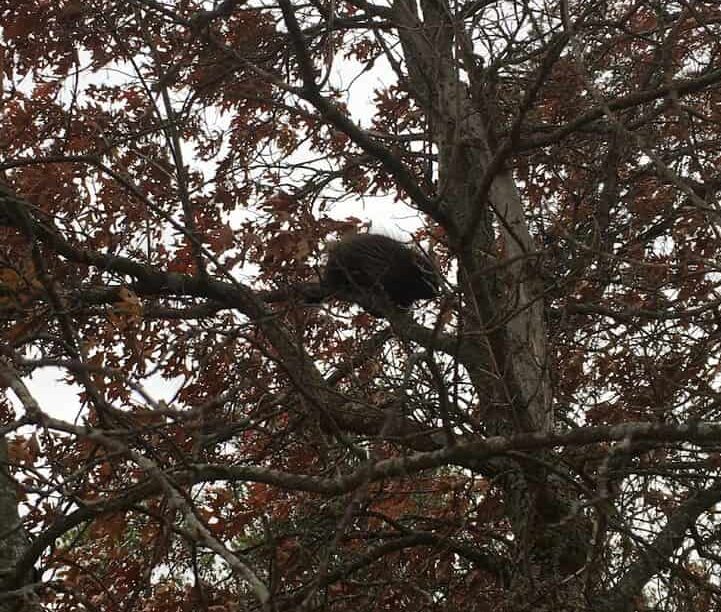 Porcupine
We stepped out of the car to get a closer view of our next wildlife sighting and were greeted by a brisk wind and a few flakes of flying snow. We walked to a large sandpit where a porcupine waddled away from us! We were all excited to see a porcupine out and about, but I'm sure it wasn't as excited as we were given that it raced to the nearest tree to begin its climb! After taking a few pictures of it, we left it in the safe retreat of the limbs above.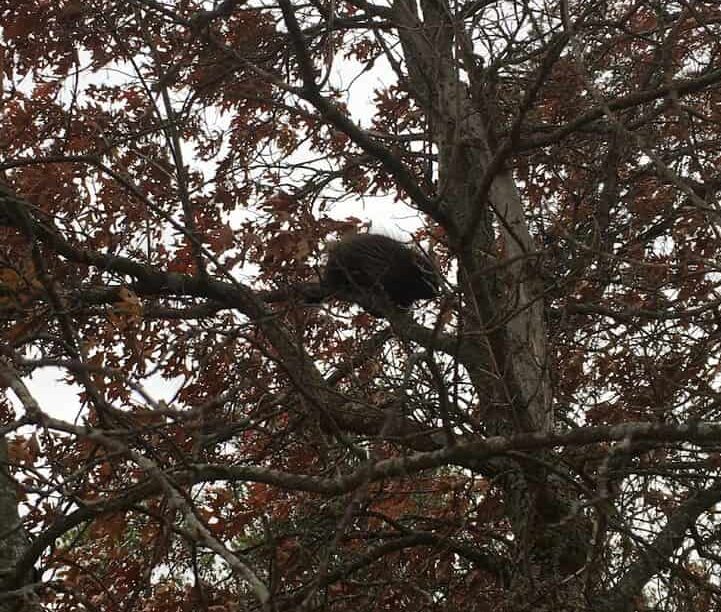 It was a great day to be out in early November. We enjoyed the 2-hours of team building as we drove through Crex Meadows having spotted over 14 different species of birds and discussing our future programming! If you're looking for a nature-rich experience that can be enjoyed year-round (highly recommended), Crex Meadows should definitely be on your list of places to visit. Around 280 species stop here on migration or call this place their home. Grab your binoculars and set your destination to Crex Meadows!
For more information on Crex Meadows:
visit their website at https://www.crexmeadows.org/
or stop by their visitor's center:
102 Crex Ave, Grantsburg, WI 54840
Looking for your own wild adventure? Visit our events page for adventures
with our experienced and knowledgeable team.