by Kate Wright, Donor Engagement and Events
Whether you are visiting the St. Croix River or Namekagon River for the first time, or a long-time local, there's always something new to explore in this wild and scenic river national park. And when it comes to beloved outdoor spaces, a good bite to eat, and a refreshing drink, there's nothing better than a combo deal. From old favorites to new discoveries, here are 5 personal favorite park pairings to spice up your summer.
---
Trego Nature Trail + The Dock Coffee
(Trego, Wisconsin)

---
Trail length: 2.8 miles
Notable trail features: Several beautiful views of the Namekagon River
My order at The Dock Coffee: The Signature Salad with salmon & spicy ginger dressing 
Pro Tip: Stop at the Namekagon River Visitor Center and ask a National Park Service Park Ranger all your river questions!
I love hitting the open road and setting my sights north and I find it almost impossible to drive through Spooner, Wisconsin without stopping at The Dock Coffee for their signature salad. This isn't just any salad; it's even served with warm pita bread and fresh hummus. I honestly can't think of a better way to fuel up for a hike in the northwoods. Another 10 minutes up the road is a treasured destination along the Namekagon River—the Trego Nature Trail. Both naturalists and phenology fans will enjoy the diverse flora and fauna along this trail. It's a great place to test your knowledge with the iNaturalist app. Just don't forget your bug repellent!
Feeling hungry and heading north? Check out The Dock Coffee. 
Lace up your boots and find a trail to hike around the Namekagon and St. Croix Rivers with this St. Croix National Scenic Riverway guide.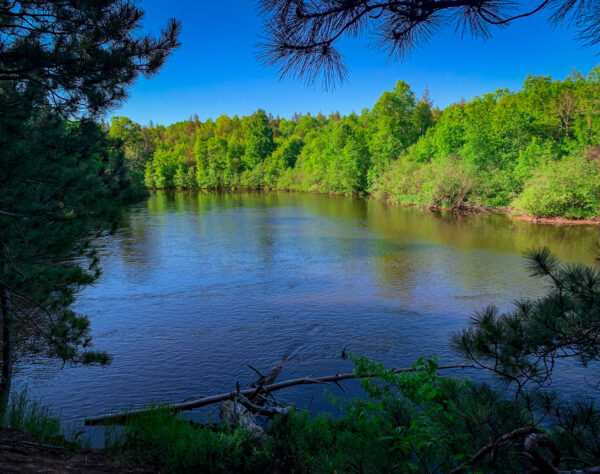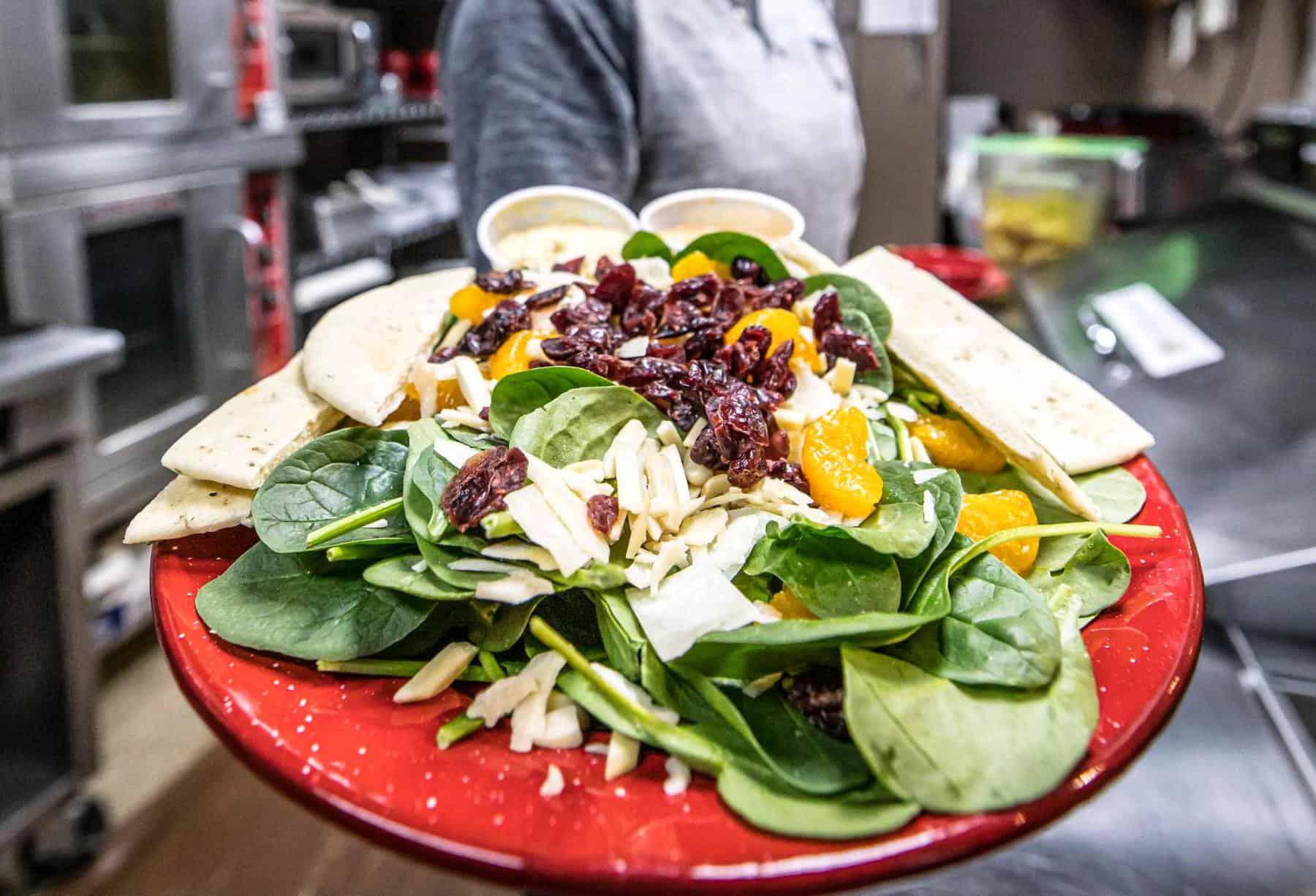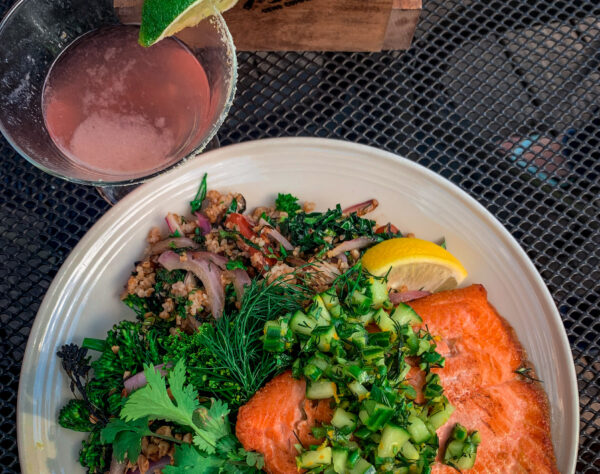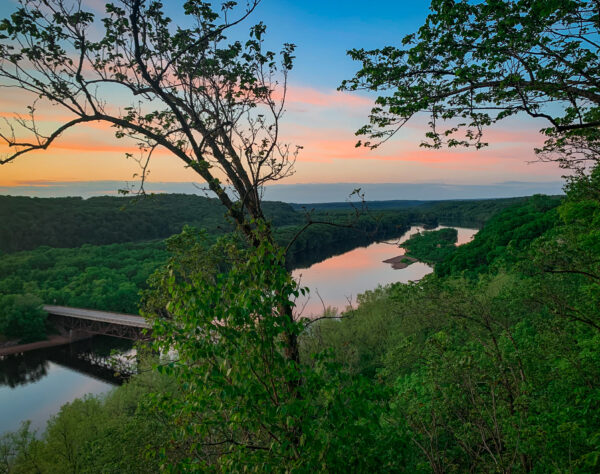 ---
Falls Bluff Loop Trail + The Watershed Cafe
(Osceola, Wisconsin)

---
Trail length: 1.1 miles
Notable trail features: Big river views and the iconic Cascade Falls 
My order at The Watershed Cafe: Fresh Catch of the Week and a margarita
Pro Tip: Head up to the western facing bluff after dinner to catch the sunset
I happen to live in Osceola, so this is my absolute go-to combination. The Falls Bluff Loop is a combination of the Eagle Bluff, Cascade Falls, and Simenstad Trails. The result is a 45-minute-long heavy hitter of hiker favorites: sweeping river views, bluff overlooks, and a 25 foot waterfall. The best part? You can literally hop on the trail from The Watershed Cafe. 
I'm a big fan of ingredients that are fresh, local, colorful and flavorful, so you can count on me to frequently share that The Watershed is the reason I could return to living in rural Wisconsin after living in the Twin Cities metro. The Fresh Catch of the Week was recently added to the menu and is now my new favorite order. It's a rare pleasure to enjoy market-fresh seafood along the banks of the St. Croix River, and I like to take full advantage. 
Check out The Watershed Café menu and hours here.
---
William O'Brien Hiking Club Trail
+ Rustic Roots Winery
(near Marine on St. Croix, Minnesota)

---
Trail length: 5.3 miles
Notable trail features: Variety of terrain and elevation changes, great St. Croix River Valley views
My order at Rustic Roots: Marquette Red 
Pro Tip: Go in late summer and see the prairie flowers in full bloom
My great-great uncle, Elmer Swenson, revolutionized cold weather grape growing in the Upper Midwest; I'd like to consider it my genetic destiny to sample the literal fruits of his labor—wine! Rustic Roots makes it easy to enjoy a glass (or bottle) on their spectacular patio overlooking the St. Croix River Valley. 
Forget your MN park pass? Don't fret. Rustic Roots has a hiking trail of their own. Just ask for details inside. I like to make the most out of my drive and walk the Hiking Club Trail at William O'Brien before heading over for a glass. The landscape and elevation changes keep me engaged, and I often find I have the northern sections of the trail to myself.
Get ready for a cool glass of local wine from Rustic Roots by clicking here.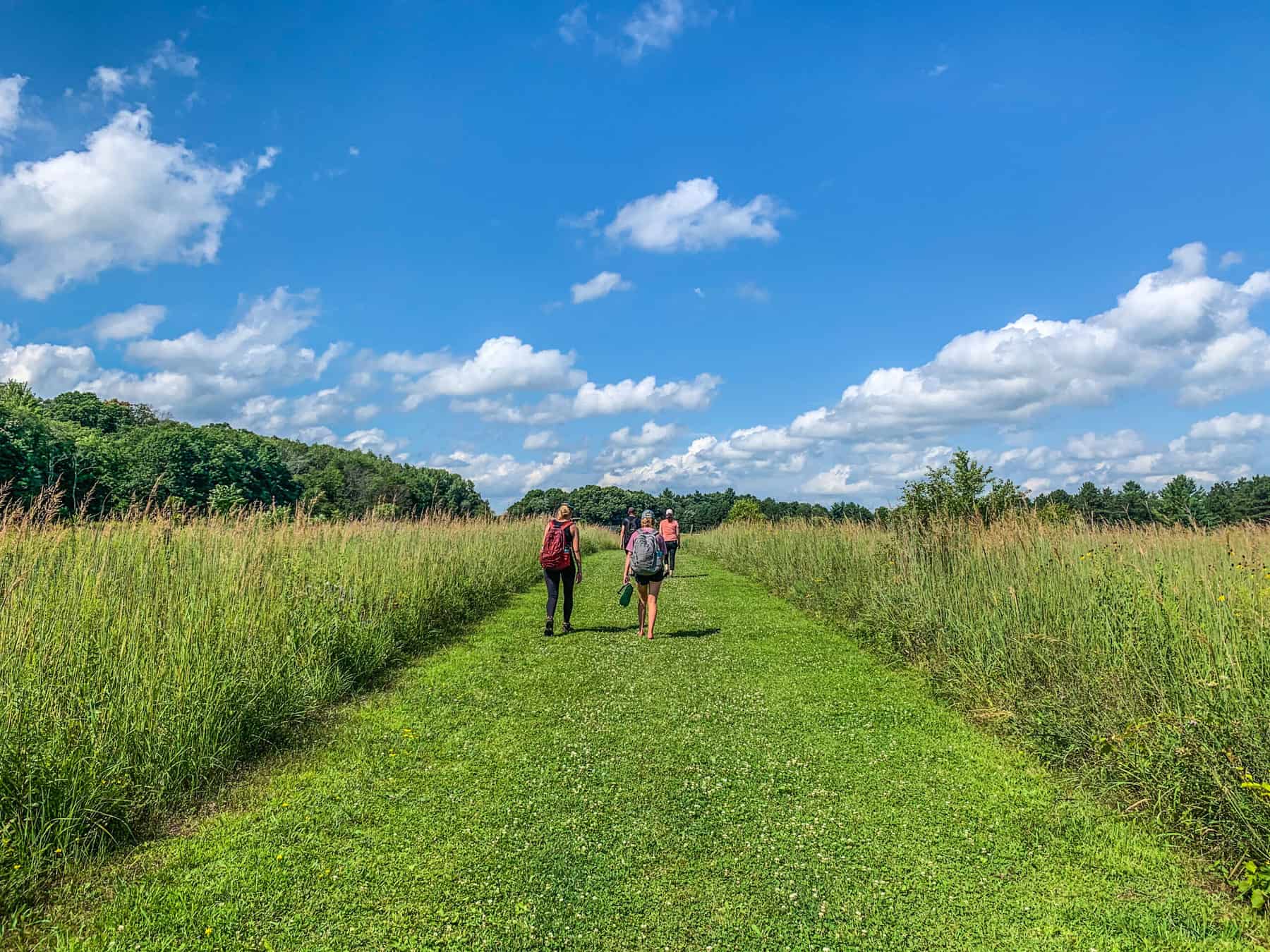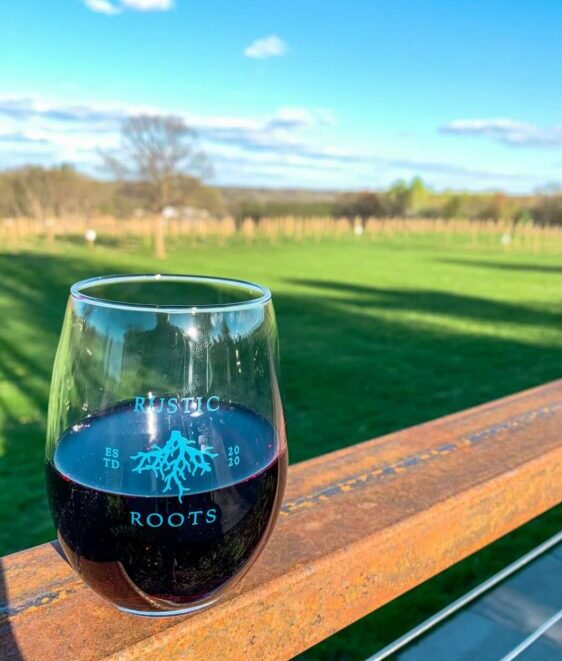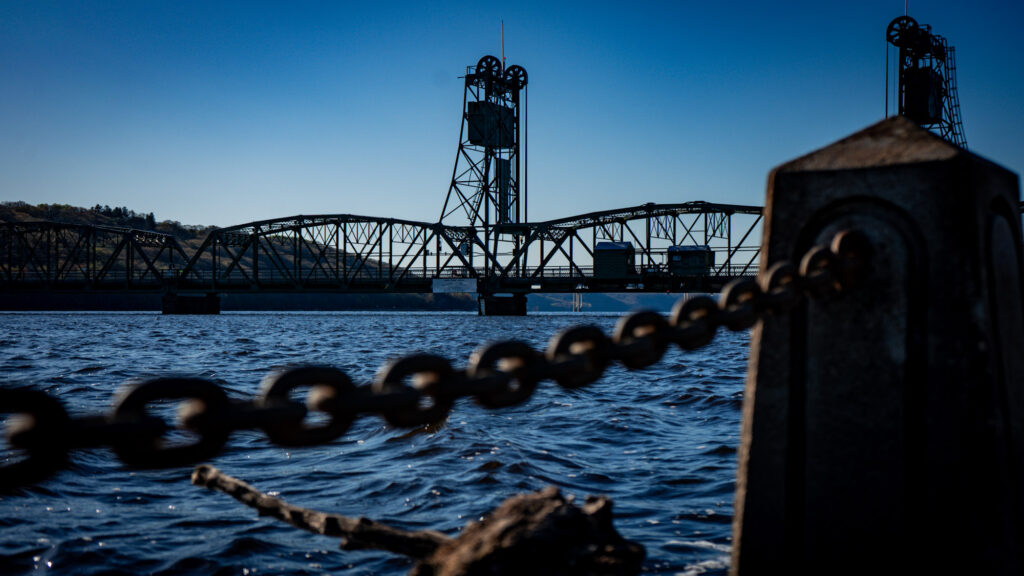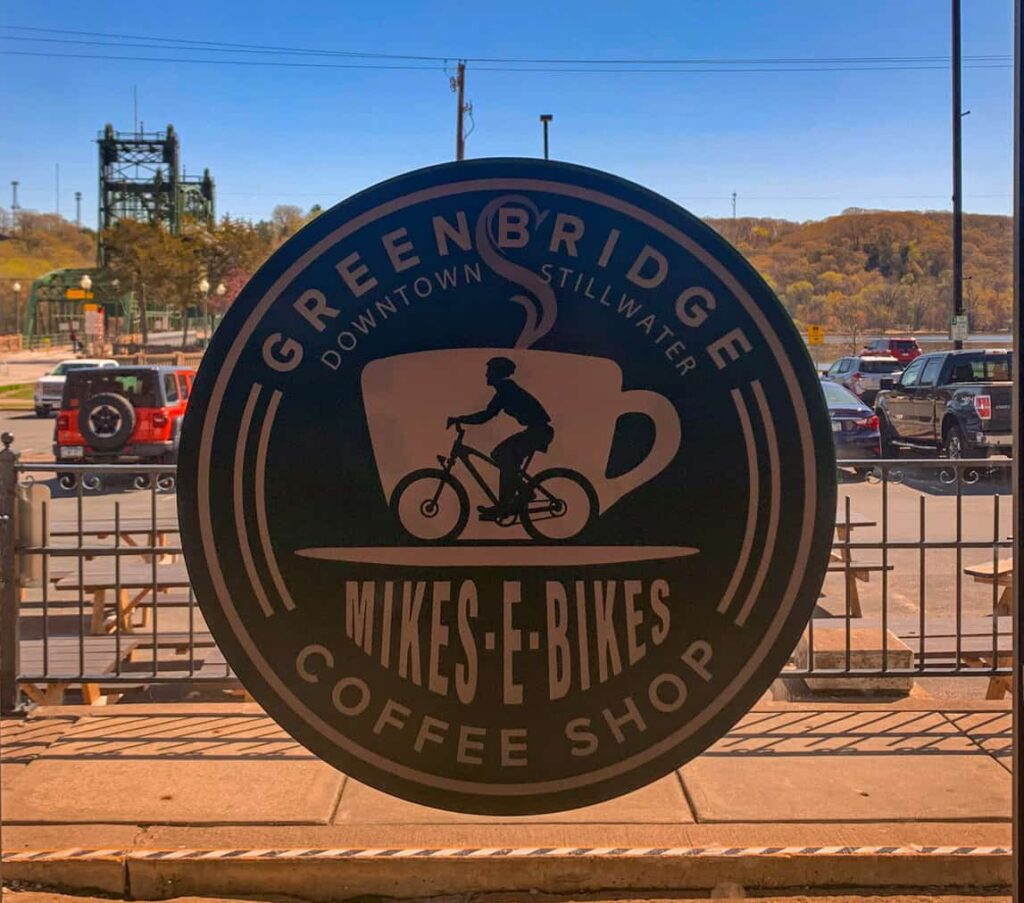 ---
St. Croix Crossing Trail + Green Bridge Coffee Shop
(Stillwater, Minnesota)

---
Trail length: 5.4 miles
Notable trail features: Double the river crossings, double the fun!
My order at Green Bridge: Fresh scone and a honey oat milk latte
Pro Tip: Bring a blanket and make a picnic out of your order. Lowell Park is located just a few footsteps from Green Bridge and has easy access to the trail.
As someone who is easily distracted, I'm a big fan of loop trails with plenty of features to keep me interested. The St. Croix Crossing Trail certainly is anything but dull. The views of Stillwater from over 100 feet above the St. Croix River are worth the trek alone. This trail is also a great place to take friends who prefer a more straightforward river adventure. Overall, this is one of the most accessible trails in our region. Just plan ahead and be aware of sections with steep hill grades up the sides of the river valley. After you get your steps in, stop into Green Bridge, not only for a culinary treat, but a super fun bike shop and rental in the back. Each time I've stopped by, I've been greeted and served by the nicest staff!
Get to know Green Bridge Coffee Shop. 
---
White Tail Ridge Mountain Bike Trails + Rush River Brewing
(River Falls, Wisconsin)

---
Trail length: Up to you!
Notable trail features: Rush Ride, Return Trip, & Joy Ride are all rated as easy trails but have quick access to intermediate and advanced trails
My order at Rush River: The Shandy + street tacos from Taqueria Los Paisanos
Pro Tip: Go on a Food Truck Friday and add global flavors to your experience!
Rush River brews their shandy with real lemons and it makes all the difference. This beer tastes exactly like a Minnesconsin summer on the water. Sip it on the patio for the full sensory experience. 
Want to earn your beer? Bring your mountain bike and enjoy access to the White Tail Ridge Mountain Bike trails from Rush River's doorstep. As more of a hiker than a biker, I tend to stick to the easier trails. But if you like Type II fun, there are plenty of intermediate and advanced routes. This is a great family choice for those looking to wear out the kiddos!
You'll want a shandy after looking at Rush River Brewing's website.
Catch up on trail conditions and view maps to plan your ride.