During a year that sometimes felt like a decade, the 52 Hike Challenge helped Wild Rivers Conservancy's Kate Wright (Donor Engagement and Events) find a new sense of freedom outdoors.
After a nearly decade-long hiatus away from the St. Croix Valley, I found myself constantly seeking out new places to discover or rediscover after moving back. It was not necessarily in my plan to find myself returning to the area full time, but if I was going to be back, I wanted to find every reason to appreciate the place I was once so ready to leave. A lifelong lover of long walks in the woods, I quickly fell back into old habits. By 2018, the people around me started to ask questions about what my favorite local trails and parks were, where they could find the places in my pictures, or how I even knew where to go. Eventually, this got me wondering how many trails had I hiked within the year. In the first half of 2019, I counted 46 distinct trails hiked, some of which I visited weekly. Amazed, I continued logging trails in a small journal and kept exploring, always trying to find something new.
In December 2019, the 52 Hike Challenge popped up in my Instagram feed, stopping me mid-scroll. It was described as A challenge where you will gain physical fitness, mental well-being, make new friends, explore new places, and connect with family, friends and yourself through nature. The basic premise was to complete a hike of one mile or greater once a week for the whole year. You could do more than one hike per week, but couldn't count more than one hike per day. I thought this would be a great challenge to kick off 2020 by starting on January 1st. It would keep me motivated to hike in the less-than-enticing winter months. Even though the challenge came to me naturally, it ended up bringing me much more than a completed checklist of 52 hikes.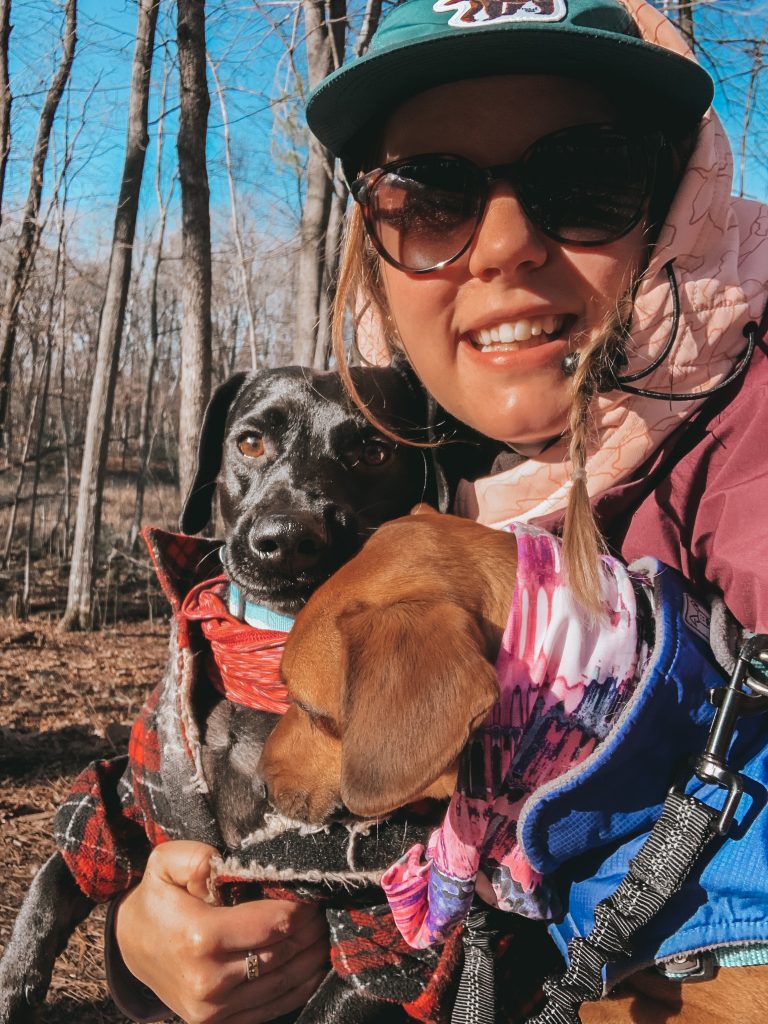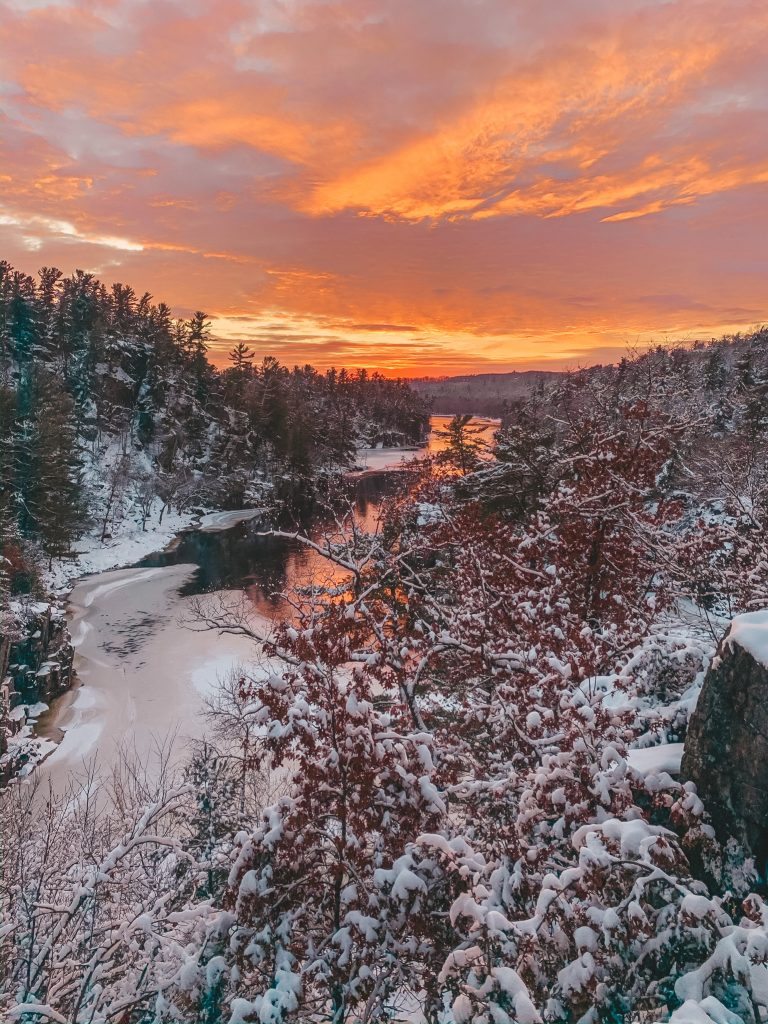 My first hike of the year on New Year's Day started out as a rushed attempt to snowshoe with two friends in WI Interstate Park. We laughed and fumbled our way down the Horizon Trail and made our way onto the connecting Pothole Trail, hoping to reach the overlook by sunset. As we came down the remaining incline, colors started peeking through the tree branches, finally revealing a sky lit on fire. Oranges and pinks danced on the clouds and reflected off the fresh blanket of snow. It was one of those unexpected and unforgettable moments that take your breath away, the kind that reminded me why I wanted to do a challenge like this.
Yet spring brought a new set of challenges. The COVID-19 pandemic crept into life in March, and had fully changed everything for me by April—except for hiking. As someone who thrives off the energy of those around me, the transition to self-isolation at home with no end in sight quickly started to take its toll. Being physically removed from my friends, family, and the people I work with daily was a mentally difficult process. However, what remained constant was my need for fresh air, undiscovered paths, and moments that made me feel alive.
The next 51 hikes came easy and quickly after that brilliant January sunset. By May, I had completed the challenge. As trips and events were canceled, hiking was not. As I grew more isolated indoors, I grew more free outdoors. I found ways to meet local friends at trailheads or boat landings for socially distant walks or paddles. I turned canceled trips into weekends of dispersed camping or made time for the local trips I had always said I'd get to later. I revisited places I hadn't been to since childhood, and pored over maps for trails that were new to me. I found ways to escape and make peace with a world that I couldn't make sense of. While January 1st seemed far away, the connection to hiking remained a reassuring constant throughout the year.
Was every hike as incredible as the first? No. Did the challenge solve all my problems? Definitely not. Do I still struggle through the change and insulation? Absolutely. Looking back on the year that feels like a decade, it's clear that the experience of participating in the 52 Hike Challenge set me up with an outlet to survive 2020 emotionally. Spending time exploring the wild world close to me and soaking in the small moments of beauty and wonder kept me afloat. As the new year approaches, I've been asked what's next—and while I'm not yet ready to answer, I do know for certain that answer will include hiking.
To participate in the 52 Hike Challenge in 2021, click here for more information.
Looking to get outside and recreate responsibly? Find out more by clicking here.
Header Photo: Adams Family Photography