Washburn County Zoning Hearing
April 11 @ 3:30 pm

-

5:00 pm

Free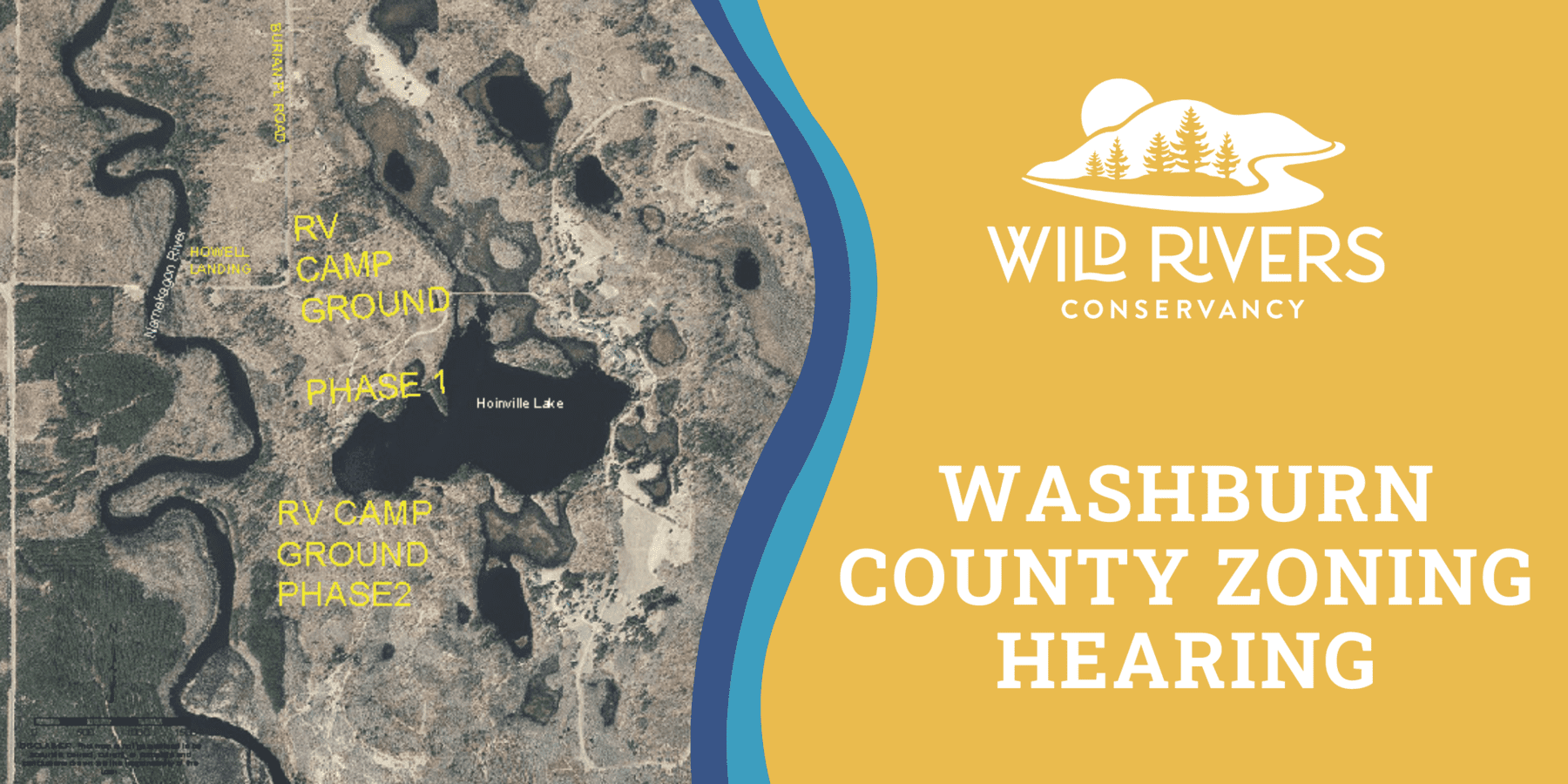 3:30 PM Business Meeting | 4 PM Public Hearing
Washburn County Services Center – County Board Room
304 2nd Street, Shell Lake, WI 54871
Speak for the River!
Oppose the authorization of a conditional use permit for a large RV campground at Heartwood Resort on the Namekagon River. 
✅Preserve its outstanding natural, cultural, and recreational values.
✅This stretch of the Riverway is a perfect example of the reason for wild and scenic designation, to protect rivers from development even as they become more valuable.
✅This healthy, intact river system is home to one of the richest examples of plant and animal life the Midwest has to offer, many of which are rare and endangered species.
❌Allowing a 140-unit RV campground here is the equivalent of creating a small town of 280-560 people or more on the edge of this national park.
❌Water quality would be impacted by increased impervious surface and septic/sewer systems.
❌Informal, "social" trails are extremely likely to develop from the campground to the river, changing the terrain and view from the river.
❌The dark skies that people now enjoy will be lost to light pollution.
❌Smoke from a concentrated number of campfires will lower air quality.
❌Increased noise pollution will forever change the peaceful experience people now enjoy.
❌Increased potential for illegal ATV use in and next to the Riverway, destroying habitat, disturbing people and wildlife, and causing erosion.
❌Neighboring Howell Landing, a primitive and remote group camp experience, could evolve from a public landing for all to one the resort considers its own private landing.
⚠️Contact the Washburn County Planning Commission BY APRIL 7 and ask them to deny the conditional use permit to Big River Holdings for the large RV campground.⚠️
📨Email:
Jocelyn Ford, jford@co.washburn.wi.us,
Dale Beers, dbeers@co.washburn.wi.us
Brian Melton, bmelton@co.washburn.wi.us,
Paul Johnson, pjohnson@co.washburn.wi.us,
Bob Olsgard, bolsgard@co.washburn.wi.us,
Thomas Mackie, tmackie@co.washburn.wi.us,
Jerry Smith, jsmith@co.washburn.wi.us
📱Call:
Zoning Administration, 715-468-4690
📬Send Letters:
Zoning Office, P.O. Box 506, 10 4th Avenue, Shell Lake, WI 54871