Written by Bethany Cox, Director of Development.
Getting out safely during a global pandemic to have a family adventure seems unrealistic. And yet, the Cox family needed to get out, so we used my 1st grader's MEA break to do just that. As the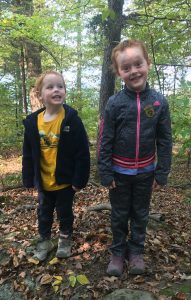 book, Do Princesses and Super Heroes Hit the Trails? says, "So where should we go on our next vacation? There are national parks all over the nation!"

We picked up a 20-year-old pop-up camper, bought more groceries than I thought our family of four could eat in a month, and headed toward Mammoth Cave National Park. With some screen time, more "I spy" than I care to remember, and lots of snacks, we arrived.

Being outside comes naturally to our family in any kind of weather. The decision to camp came very easy as a way to enjoy nature, a new place, and stay socially distant. Our pop-up felt luxurious, with amenities not found in our usual tent camping—heat, a small kitchen, as well as our family's own restroom. We found a great way to have a safe adventure away from our home.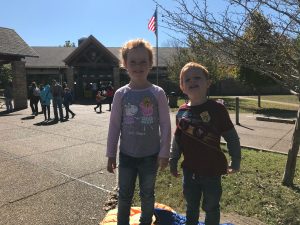 With tickets purchased for a self-guided tour of Mammoth Cave, we found questions for each Park Ranger along the way. How many entrances are there to the cave? What does it mean to be an International Biosphere Reserve? Are there wishing stones in the cave? Why does the cave have weather stations inside? By the end of the two-hour tour, my children pored over their Junior Ranger Workbooks and were inducted by Ranger Layken as Junior Rangers.

While the cave was the true highlight of the trip, my two Junior Rangers lead us on hikes, shared their thoughts with us on the otter that visited our campsite each night, and repeated over and over, "A ranger's job is never done, but yee-haw it sure is fun!" (Thank you, Ranger Layken.)

As the snow is falling one day after returning home and we look towards what is likely to be a few more tough months, I find myself asking, "What can we do for a super fun day? The National Parks look like a good place to play." Let's take the lead of Do Princesses and Super Heroes Hit the Trails? and visit our local National Park. The St. Croix National Scenic Riverway welcomes us year-round. From hikes and snowshoeing in the winter to swimming and paddling in the summer, our park is a great place to play!
---
Our park has seen a huge increase in visitors since March of this year. To make space for each visitor and ensure a safe and enjoyable experience for all, there are a few simple things we can each do. Follow the guidelines of #RecreateResponsibly:
    Know Before You Go
Check the status of the place you want to visit. If it is closed, don't go. If it's crowded, have a backup plan.
    Practice Physical Distancing
Keep your group size small. Be prepared to cover your nose and mouth and give others space. If you are sick, stay home.
    Plan Ahead
Prepare for facilities to be closed, pack lunch, and bring essentials like hand sanitizer and a face covering.
    Play it Safe
Slow down and choose lower-risk activities to reduce your risk of injury. Search and rescue operations and health care resources are strained.
    Explore Locally
Limit long-distance travel and make use of local parks, trails, and public spaces. Be mindful of your impact on the communities you visit.
    Leave No Trace
Respect public lands and waters, as well as Native and local communities. Take all your garbage with you. (Try bringing a garbage bag with you on every hike and see how much you can help nature along the way!)
    Build an Inclusive Outdoors
Be an active part of making the outdoors safe and welcoming for all identities and abilities.
To learn more about these concepts, visit Recreate Responsibly and Leave No Trace Center for Outdoor Ethics.