River Week at the St. Croix Falls Public Library
June 25, 2018 @ 1:00 pm

-

4:00 pm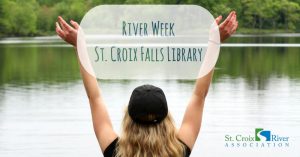 It's River Week at St. Croix Falls Public Library! Join us for river-themed activities all week to discover how the rivers are alive!
The ponds, streams, creeks, rivers and lakes in our communities are full of life, big and small and we play a direct role in keeping them that way. Become a biologist and use a variety of tools and materials to collect, observe and identify the tiny creatures that are big indicators of how healthy a body of water is.
We will begin by collecting macroinvertebrates along the Fish Ladder Trail, just a short hike from the library. Rubber boots or water shoes are suggested if you want to go into the creek, though not required. Join us on the library plaza later in the hour if you would like to observe what has been collected. All ages are welcome!
Join us on the plaza of the St. Croix Falls Public Library to learn helpful tricks to identify edible wild plants, their cultural significance, and complete a Wild Edible Scavenger Hunt! We will begin on the plaza and then do a short hike on the Fish Ladder Trail. After the hike, enjoy some refreshments made from wild plants and some St. Croix Snack Mix. All ages are welcome!
Bring your friends on this kayak trip! Kayaks provided, but you may bring your own (and a lifejacket). We will leave from the Taylor's Falls Interstate Park Boat Landing and end at the Osceola Boat Landing with a cookout in the park there. Registration required and can be found here: https://docs.google.com/forms/d/e/1FAIpQLSctN5xhzDzKIeI6l5DKrEfLZ9lFtJG7W0M5ED3t520lMf_oPQ/viewform?usp=sf_link
Children's Story Time at Lion's Park
Thursday 6/28 10:30-11:30 am
Join us at Lion's Park and listen to some river-themed stories with the St. Croix River as the backdrop.
Just like we have a home that provides shelter, space, food and water, there are tiny creatures who make their home in a stream or river and this habitat provides everything they need to survive. Be introduced to macroinvertebrates by observing them in their aquatic habitat and then recreating their habitat through art.
Drop in to the library's community room (or out on the plaza if the weather is nice) to join us. All ages are welcome!