Lunch & Learn: Lichens of the Riverway
January 26, 2022 @ 12:00 pm

-

1:00 pm

Free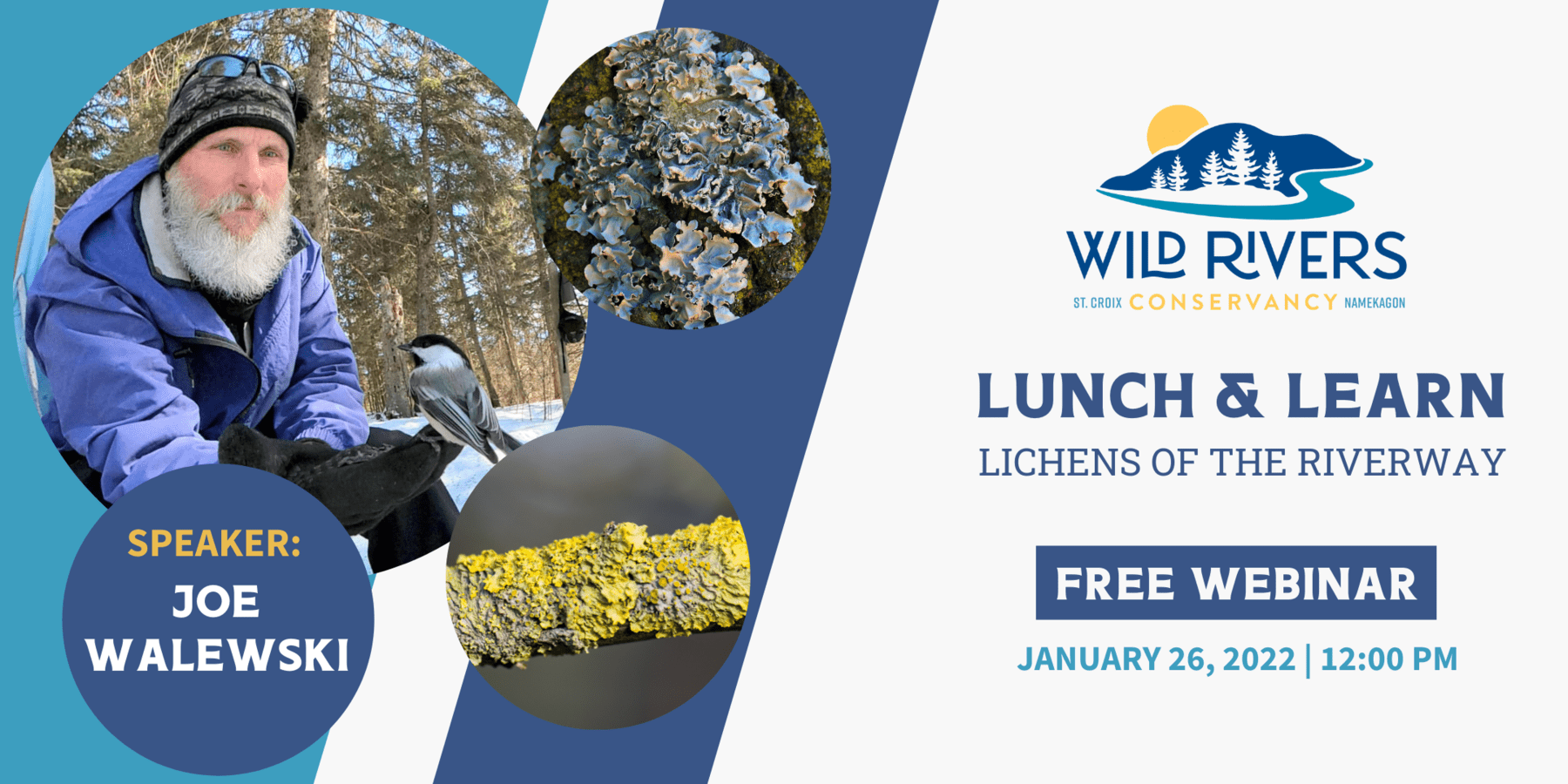 Discover more about the National Park in your backyard! Tune in and turn your lunch hour into the best part of your day through Wild Rivers Conservancy's limited webinar series, Lunch & Learn. We'll explore topics that resonate throughout the St. Croix National Scenic Riverway and bring the experts to the comfort of your home, office, or wherever you may find yourself. Cozy up, grab lunch, and get ready to learn about the natural resources of the St. Croix and Namekagon Rivers. 
Learn about local Lichens from expert Joe Walewski of Wolf Ridge Environmental Learning Center. Lichens are all around us, but it takes effort to notice them! Once you begin to see them, you'll start seeking them out everywhere you go. Joe will share images and stories of discovering lichens in the St. Croix and Namekagon Riverway and tips for identifying lichens anywhere else you might explore. Together, we will learn the basics of lichen biology, ecology, and observation.
Joe Walewski, Wolf Ridge Naturalist and Interim Program Director, has been a Naturalist all his life and could never imagine doing anything else. In addition to managing the Wolf Ridge Graduate Naturalist Training Program since 1999, he authored Ferns & Allies of the North Woods and Lichens of the North Woods.
In advance of our Lichens of the Riverway presentation, we would love to see what lichens you are finding in the watershed! Send in your photos of lichens you find while out exploring. Describe where you found them, and send them to Wendy Tremblay ( wtremblay@wildriversconservancy.org ) by Monday, January 24th. Three lucky lichen photographers will go home with a copy of Lichens of the North Woods.
This webinar is FREE, but registration is required.
Stay tuned for additional Lunch & Learn webinars:
February: The Ins and Outs of Prescribed Fires
March: Lawn Care and Native Gardening
April: Mussels of the St. Croix National Scenic Riverway