Lunch & Learn: Saving the Winged Mapleleaf Mussel from Extinction
January 18 @ 12:00 pm

-

1:00 pm

Free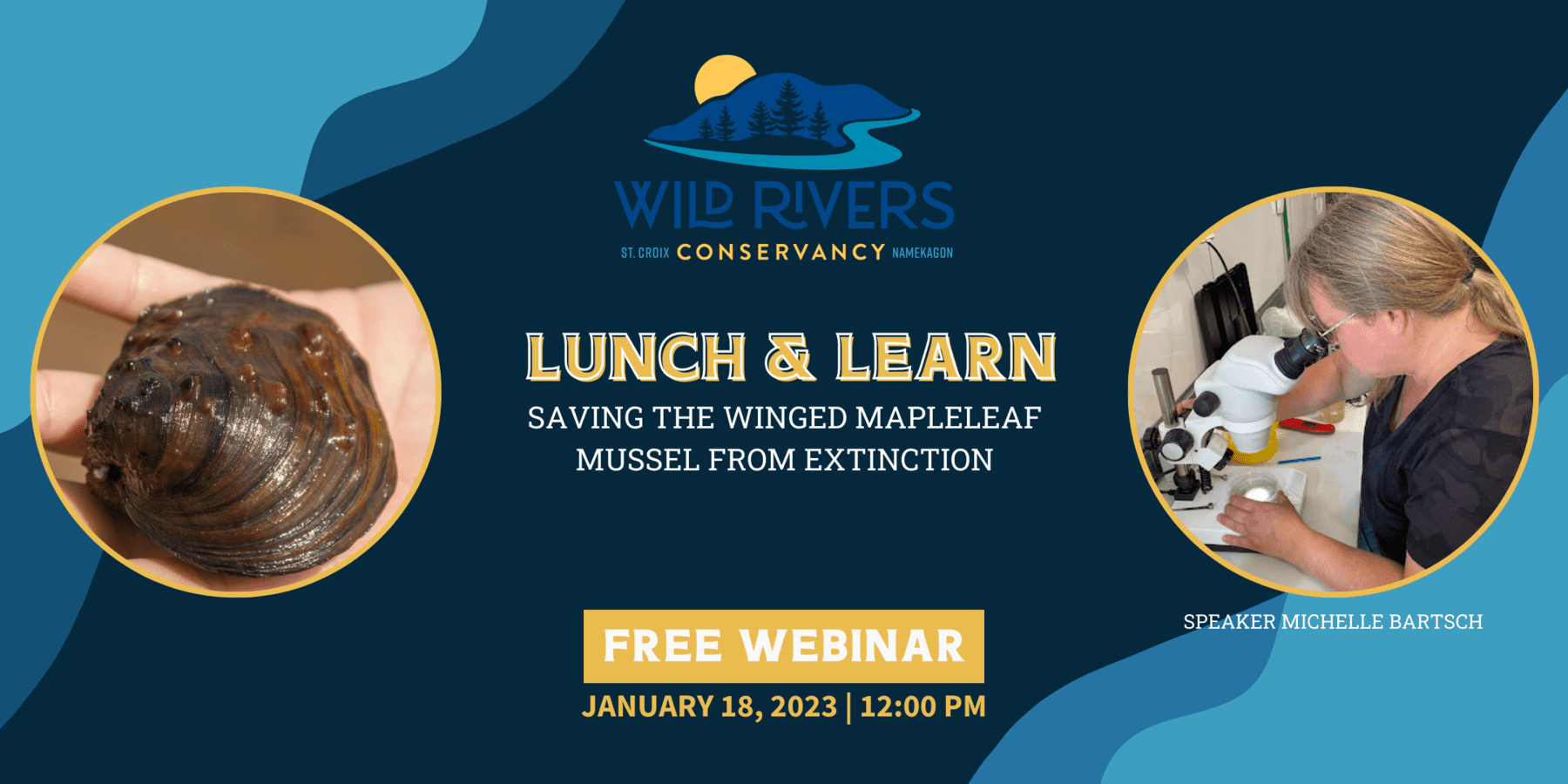 Discover more about the National Park in your backyard! Tune in and turn your lunch hour into the best part of your day through Wild Rivers Conservancy's limited webinar series, Lunch & Learn. We'll explore topics that resonate throughout the St. Croix National Scenic Riverway and bring the experts to the comfort of your home, office, or wherever you may find yourself. Cozy up, grab lunch, and get ready to learn about the natural resources of the St. Croix and Namekagon Rivers. 
Did you know that the St. Croix National Scenic Riverway is home to more than 40 species of freshwater mussels? These mussels play a critical role in maintaining the excellent water quality of the Namekagon and St. Croix river system by filtering water and cycling aquatic nutrients. But one genetically unique species, the winged mapleleaf, is close to extinction.  Wild Rivers Conservancy and our invaluable partners are engaging in cutting-edge research in our National Park to save this mussel. 
Join Michelle Bartsch, a Research Biologist with the US Geological Survey, Upper Midwest Environmental Sciences Center, to learn more about the science and methods being developed right here in the St. Croix watershed to save this endangered mussel.
This webinar is FREE, but registration is required.
Stay tuned for additional Lunch & Learn webinars:
February 15: Lake Sturgeon of the St. Croix and Namekagon Rivers
March 8: Do Rivers Affect Winter Survival of the Emerald Ash Borer?
March 22: Harmful Algae Blooms