Hudson Bay Bound Presentation in Hayward
August 2, 2021 @ 7:00 pm

-

8:30 pm

FREE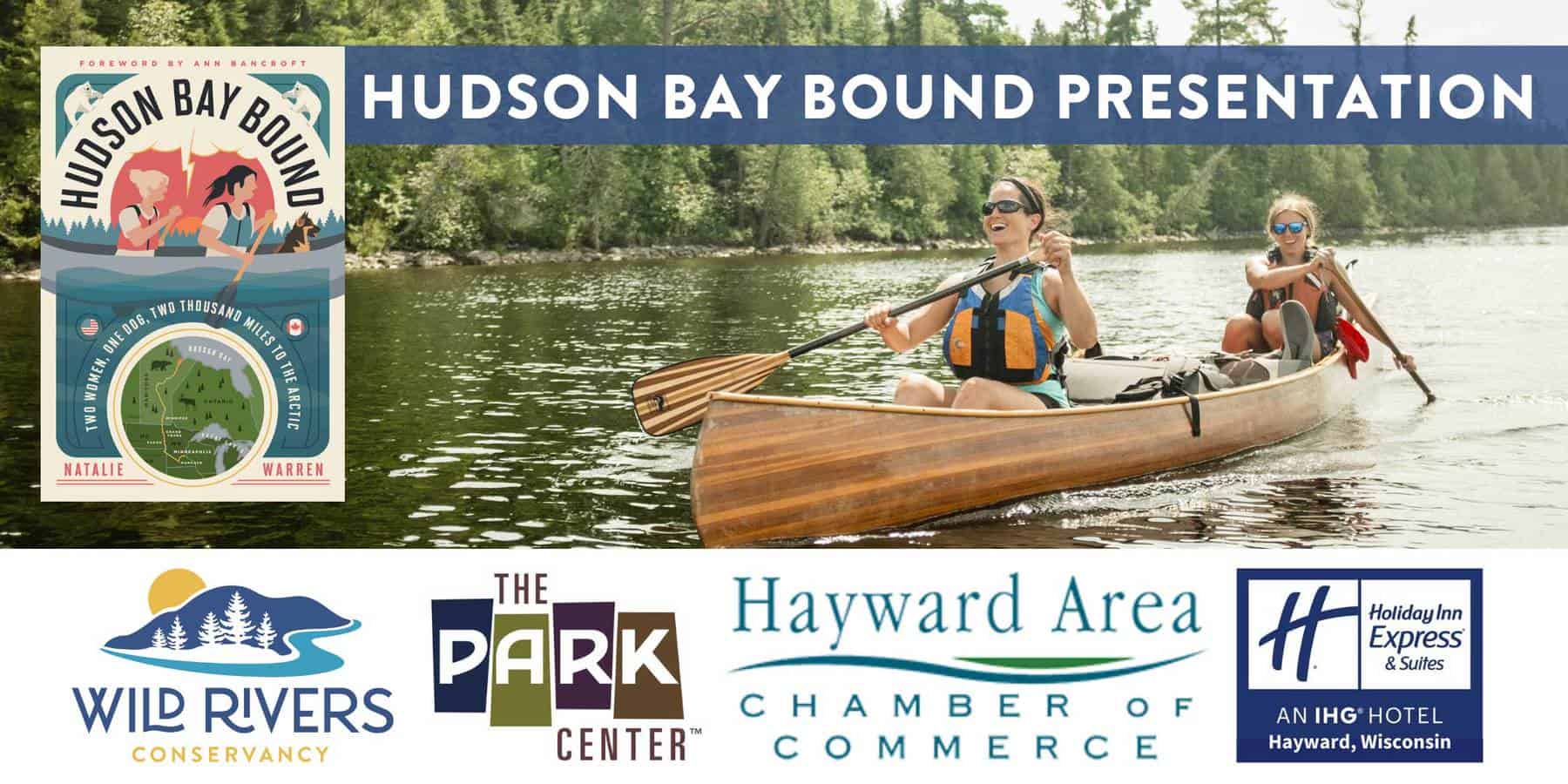 You'll want to grab a paddle and head out for an adventure of your own after hearing author Natalie Warren!
From snake nests to sweltering heat, polar bears, and paddling in unrelenting winds, the 85-day journey of the first two women to canoe the 2,000-mile route from Minneapolis to Hudson Bay is filled with twists and turns. Get the inside story on the adventure of a lifetime, from the practicalities of planning a canoe expedition to the pleasures, perils, and enduring wonder of the wilderness.
When: Monday, August 2 at 7:00 PM
Where: The Park Center
15791 US Highway 63
Hayward, WI  54843
Register today for this free event—space is limited!
Click here to learn more about the book.
Thank you to our event sponsors!

---
About the Presenter
Natalie Warren
A lifelong paddler and river lover, Natalie was one of the first two women to paddle from Minneapolis to Hudson Bay. She has since canoed the length of the Mississippi River and won first place in the Yukon River Quest in the women's voyageur division, paddling 450 miles in fifty-three hours. A contributing writer to outdoor publications, she has worked with Bancroft Arnesen Explore, Wild Rivers Conservancy, and River Management Society, and she started a nonprofit to present urban rivers as natural, dynamic classrooms for youth. She is currently a PhD student in the Communication Studies department at the University of Minnesota studying Environmental Communication. Natalie lives in Minneapolis with her husband, daughter, and dog.
---
Praise for Hudson Bay Bound
"Ann and Natalie would be heralded for showing that adventure can still be had in a changing environment, and that women have not only a place in the landscape of adventure, but an important voice that needs to be heard. Their journey illuminates the physical landscapes, hardships, and human encounters; it also uncovers the heart of any good journey, the human spirit."
– Ann Bancroft
"From the foggy swirl of excitement as Natalie and Ann launch their canoe into the flooded Minnesota River to their final paddle strokes down the Hayes River, Hudson Bay Bound provides a vivid account of an awesome adventure."
– Amy and Dave Freeman
"With the candor and enthusiasm of a first grand adventure, Natalie Warren shares the joys and trials of living by water, propelled northward by muscle power and the belief that anything is possible."
– Caroline Van Hemert
"Hudson Bay Bound is part adventure-memoir, part non-traditional love story. Her adoration for the water and deep respect for the history of the land it weaves through is clear throughout the journey. A refreshing, fun, and thoughtful read."
– Gale Straub
Photo: Lee Vue