St. Croix Youth Summit
April 21, 2022 @ 9:30 am

-

2:30 pm

Free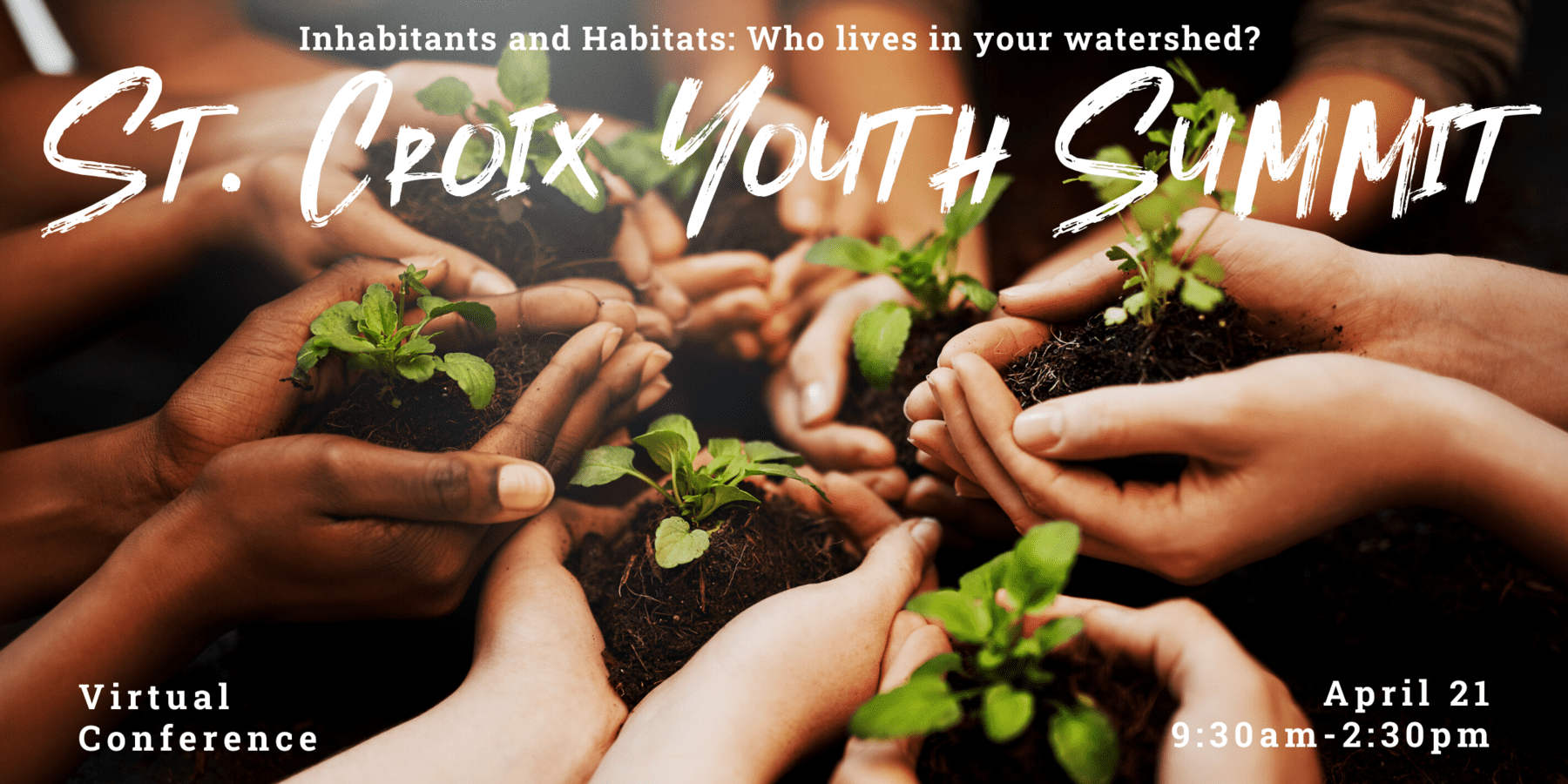 2022 St. Croix Youth Summit
Inhabitants and Habitats: Who Lives in Your Watershed?

April 21: Virtual Conference |  April 22: Optional Activity
Cost:
Free (suggested donation of $3 per student that goes towards youth programs)
This year, 5th through 8th-grade students have the opportunity to learn about:
The incredible ecology of the St. Croix National Scenic Riverway, the first Wild and Scenic River National Park

Inspiring stories from their peers of environmental projects they are working on in their classrooms or at home

The people indigenous to our region and the traditional environmental knowledge they have passed down for thousands of years

Fascinating creatures that live in our watershed, including raptors and reptiles from Carpenter Nature Center

Soil health and microbes with the Soil Your Undies campaign

Macroinvertebrates and what they tell us about water quality
There are two ways to register your students for the virtual learning day:
Option One: Teachers can register as one attendee, and the whole class can tune in together through your classroom projection system.
Option Two: Students can register individually, tuning in on their own devices.
Please Note: Each registrant will need to create a Hopin account with their email and chosen password. Students that register individually and tune in on their own device will have greater flexibility and control over choosing different workshop sessions.
For information and resources on how to participate in the optional activity day,
please scroll down to read more towards the bottom of this page.
(Virtual conference registration not required.)
CLICK ON THE FLYER BELOW TO VIEW AND PRINT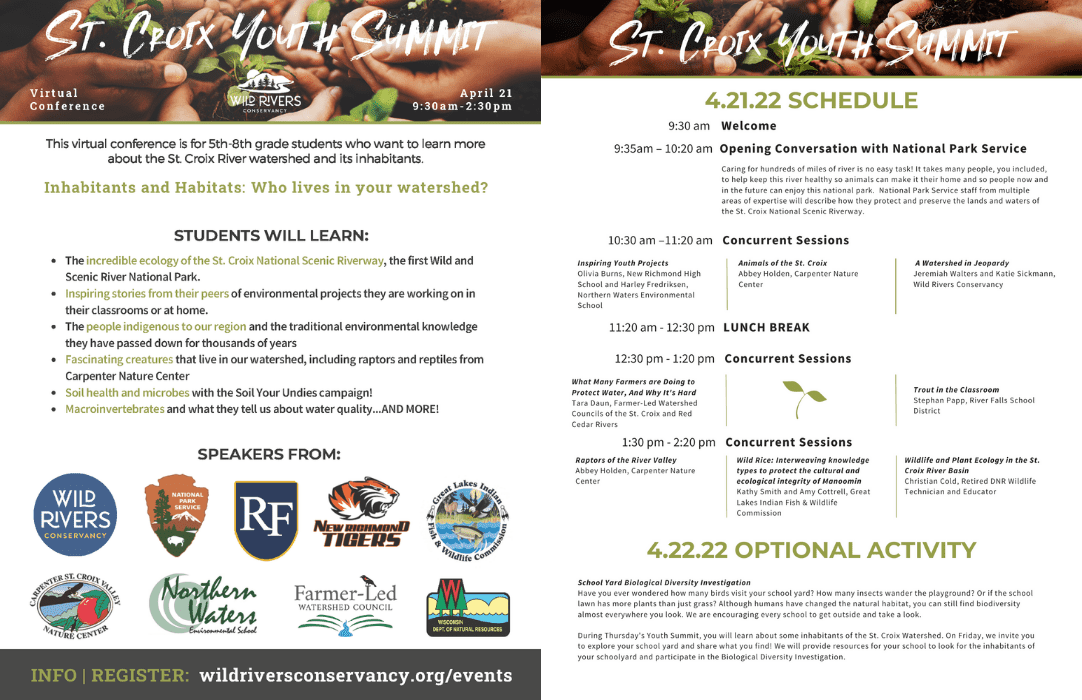 The St. Croix Youth Summit is brought to you by the Wild Rivers Conservancy in partnership with the National Park Service St. Croix National Scenic Riverway, St. Croix County, University of Wisconsin Extension, Carpenter Nature Center, and Friends of Willow River & Kinnickinnic State Parks.
Questions about program details, participation, and registration? Contact Wendy Tremblay, wtremblay@wildriversconservancy.org.
Thank you to Acorn Naturalists for providing a $50 Gift Card to be used in a drawing for our early registrants.
---
April 22: Schoolyard Biological Diversity Investigation
After participating in the Virtual St. Croix Youth Summit on Thursday, April 21st, we invite your school to join us in a citizen science investigation on Friday, April 22nd.
Have you ever wondered how many birds visit your schoolyard? How many insects wander the playground? Or if the school lawn has more plants than just grass? Although humans have changed the natural habitat, you can still find biodiversity almost everywhere you look. We are encouraging every school to get outside and take a look. To participate, simply let us know that you are participating in this investigation activity by REGISTERING HERE.

Plan to take your students outside for 20-30 minutes on Friday, April 22nd. Print copies of this worksheet and have students work in small groups to list all the plants and animals that they find in the schoolyard. When you return to the classroom, work together to compile your data into this Google form and submit it by Friday, April 29.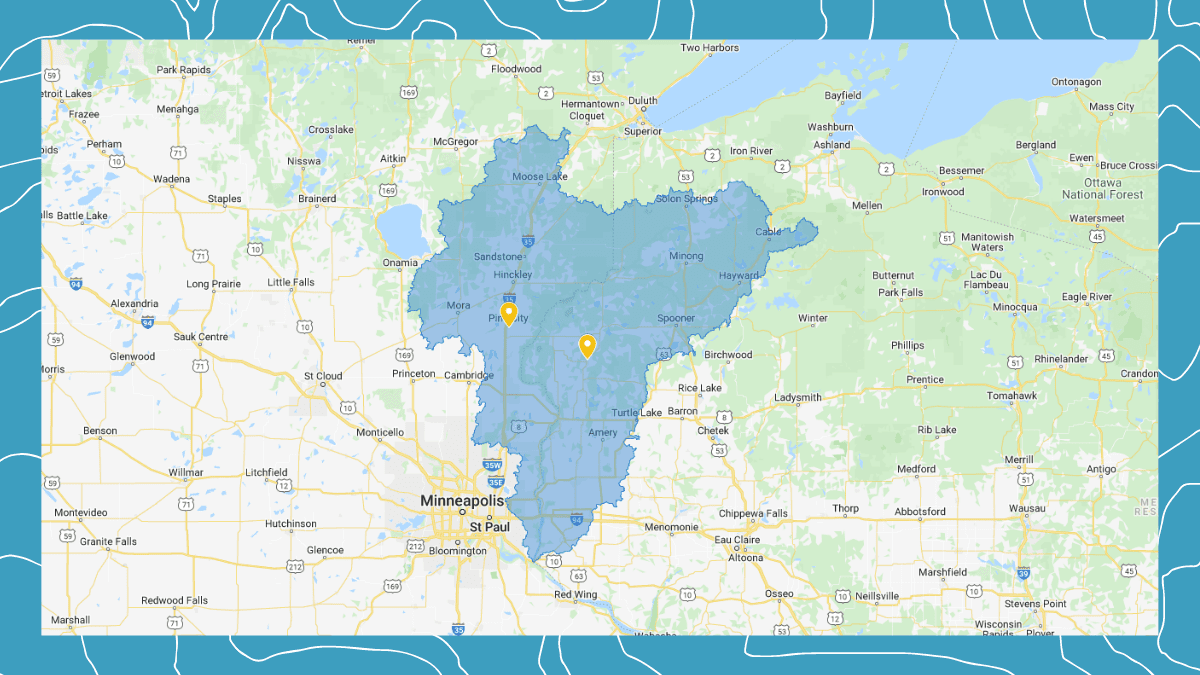 View data from your school and others on an interactive map! Take a look at the two example schools on this Interactive Map. When you participate and submit your data, your school will be added to this map. Your students will be able to explore the map and learn where different species are living this time of year and what types of plants grow in other areas of the watershed. Think of all the ways you can use this great resource to study the inhabitants and habits within our watershed!
Don't forget to let us know if you'll be participating in this interactive day of citizen science in your own back (school) yard!
CLICK HERE TO REGISTER FOR SCHOOLYARD BIOLOGICAL DIVERSITY INVESTIGATION
---
Questions about program details, participation, and registration? Contact Wendy Tremblay, wtremblay@wildriversconservancy.org.